Carrier® Products
T.F. O'Brien is committed to providing Carrier®-quality comfort to Nassau and Suffolk Counties. If you've got a heating or cooling need, want to improve your indoor air quality, or just want to lower your energy bills (or all three), there's a perfect Carrier product for you. Call us at to learn more about these great products.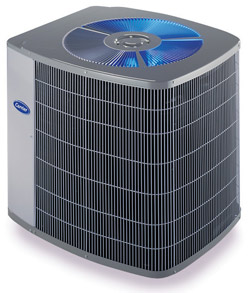 Is your home or workplace sweltering? We recommend you check out the Carrier air conditioning products below. Each is a reliable choice that will keep you cool as a cucumber. If you're looking for a quiet, attractive and energy-efficient air conditioner, you definitely want to learn more about Carrier cooling products.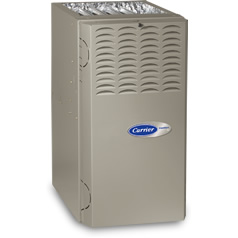 Chilly? Good news! There are lots of great Carrier furnaces available to warm up your home or business. Below are some of our favorites that will make you toasty in no time: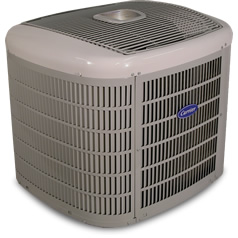 Whether you're looking for the highest efficiency heat pump or the most economical quality comfort available, Carrier has a heat pump for you. Check out some of your options below: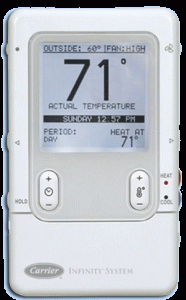 To easily manage your home comfort, we offer a wide variety of highly engineered thermostats by Carrier. Whether you're looking for a wireless thermostat for optimum zoning, a highly programmable thermostat to keep your energy use on a schedule, or ease of use with features like touch-screen, Carrier has a quality product for you. Though the features in each t-stat vary almost as much as the people who use them, you can be sure you'll always get Carrier quality and reliability no matter what product you choose. Check out a few of your options below:
Want the absolute best? The Carrier Infinity Heating & Cooling System offers the highest efficiency and most advanced home comfort technology on the market. If you're looking for a system with all the bells and whistles, this is the one for you.
At T.F. O'Brien & Co, "we're not comfortable until you are". That's why we love to install Carrier heating and cooling products. Carrier products are known for quality. When you choose one, you can be confident you're getting one of the most reliable comfort solutions in the world — and you can get it right here in Long Island from T.F. O'Brien & Co.