Carrier Infinity Series Heat Pump
Ultra High Efficient Heat Pump Built for Total Home Comfort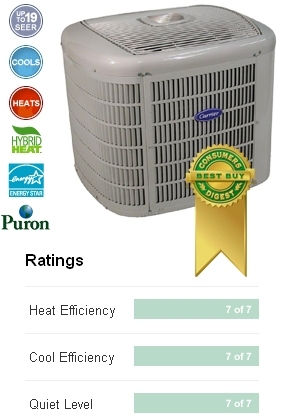 Carrier's exclusive Infinity Series heat pump has two stages, operating with less power longer. And we engineered it to team with an Infinity Series furnace to create an economical HYBRID HEAT dual fuel system, which saves you year-round.
Puron refrigerant
Up to 19 SEER
Up to 9.5 HSPF
Superior humidity and temperature control
As low as 69 dB
2-stage compressors for ultimate comfort
Infinity Control for maximum performance
Silencer System II for quiet operation
WeatherArmor Ultra System for ultimate protection
10-year parts limited warranty when properly registered

ENERGY STAR
As an ENERGY STAR partner, Carrier Corporation has determined that the Infinity 19 heat pumps that achieve system combinations of 14.5 SEER, 8.2 HSPF and 12 EER or higher meet the ENERGY STAR guidelines for energy efficiency. Proper sizing and installation of equipment is critical to achieve optimal performance. Split system air conditioners and heat pumps must be matched with appropriate coil components to meet ENERGY STAR criteria. Ask your contractor for details or visit the ENERGY STAR web site.
Models starting with: 25HN
---
Performance
Efficiency
Up to 19 SEER/9.5 HSPF
Limited Warranty
10-year parts limited warranty when properly registered1
Details
Sound
Quiet Level
As low as 69 dB
Features
Silencer System II
Controls
Controls Supported
Infinity Control
Diagnostics
Enhanced diagnostics with Infinity control
Technology
Refrigerant
Puron refrigerant
Compressor
2-Stage scroll
Heating Capacity (Btuh)
24,000 – 60,000
Cooling Capacity (tons)
2 – 5
Aesthetics
Protection
WeatherArmor Ultra
Construction
Galvanized steel
Paint
Powder-coated, baked-on complete coverage
Coil Guard
Steel louver coil guard