Go ductless with T.F. O'Brien
T.F. O'Brien installs hundreds of ductless systems in the Long Island area. Our experience, coupled with some amazing incentives available right now, make this the perfect time to go ductless. Contact us today, and we'll send out one of our highly trained Comfort Specialists who will be more than happy to help you learn how ductless cooling and heating might be right for you!
Why go ductless in Long Island?
More and more people are choosing to install duct-free cooling and heating in their homes. Ductless systems are the way to go for apartments, room additions and other areas where ductwork is impractical or impossible. But the benefits of ductless cooling and heating go beyond practicality.
Benefits of a ductless system
Ductless systems deliver the cooling and heating comfort of a traditional system to specific individual spaces in your home. Whether you're creating a quiet, comfort-controlled home theater room, or you simply want to heat or cool an area in your home without ducts, the wide variety of ductless systems give you the efficiency, aesthetics and comfort of a traditional central heating and cooling system. Not to mention, they're also an efficient and quiet alternative to a window air conditioner unit.
---
But don't take our word for it…
"I did not have a previous system, so I was new to ductless air conditioning. The installer was very helpful. He walked me through the mechanics of the system and provided me with educational brochures. I would definitely recommend this system to other people, as it's energy efficient. It's also very quiet – sometimes we wouldn't even realize it's running if not for the cold air coming out!" –
Joanne R., New York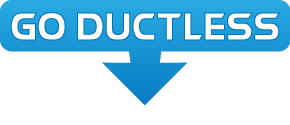 Error: Contact form not found.