Modern heat pump systems can help you save energy.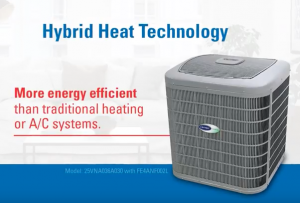 Are you thinking about updating your home's heating and cooling system? You may be surprised to learn that you can do it, all with just one system, when you choose to install a heat pump. Heat pump systems are able to both heat and cool your home, all while providing you with energy efficiency. With today's advanced technologies, it's possible for people living even in colder climates (like New York) to choose a heat pump for effective home heating and cooling.
There are many benefits to choosing a heat pump system, like the Carrier Infinity®, for your home – but the main one for most people is the amazing energy efficiency. Heat pumps move heat rather than generate it, and that allows them to offer the same space conditioning for much less of a cost, compared to older heating and cooling systems. In fact, the Department of Energy indicates that modern heat pumps use up to 50 percent less energy when compared to furnaces and baseboard heat.
Another benefit is that your heat pump system can efficiently control your home climate – year round. That's because heat pumps offer both heating and cooling. Infinity heat pump systems are high quality, and are manufactured by one of the best home comfort brands in the business, so you can rely on them for effectiveness, efficiency and durability. You'll also be glad to know the Infinity heat pump system is environmentally sound, having achieved an ENERGY STAR rating and using non ozone-depleting refrigerant.
The Northeast Energy Efficiency Partnerships offers that a heat pump system can save consumers more than $400 annually compared to an electric system, and more than $900 when replacing an oil system. There are different models to choose from, including both ductless and ducted systems. At T.F. O'Brien, we can help you choose the best one for your home and your comfort needs. Our skilled technicians will provide you with expert, professional installation and service after the sale. To learn more, give us a call at 516.488.1800, and we will be happy to assist you.