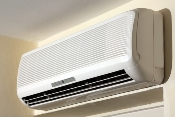 Modern homes are not built, they are engineered. A significant amount of professional time and effort is devoted to the optimal design of every system in a house. As such, remodels and room additions to these designs are best left to professionals, who will know when to expand ductwork or to utilize ductless mini-splits.
The problem
Every homeowner has encountered a dead zone in their house, a particular space that just won't properly cool or heat. Room additions or renovations may have failed to properly account for the new placement of a wall or the lack of adequate ductwork. These issues are especially problematic in older homes with poorly designed or non-existent central HVAC systems.
The solution
Fortunately, there is an attractive and affordable solution to such problems, namely, ductless mini-splits. Easily installed anywhere in your home, a low-profile mini-split system provides exactly the heating or cooling that the space requires, and thus lowers costly energy bills. Whether you are building out an attic or adding a room to the garage, these self-contained systems provide all the flexibility and comfort of a conventional system, at fraction of the cost.
The company
For 75 years,T.F. O'Brien Cooling & Heating has provided the finest electrical and mechanical services to the residents of Nassau and Suffolk Counties. Our experienced technicians can deal with any mechanical problem or installation design, no matter how small or how complicated.
The result
T.F. O'Brien treasures continuity, and our end goal is to keep homeowners comfortable, while ensuring maximum energy savings. We foster short-term friendships with our clients that result in long-term relationships, by putting the customer's needs first.
For more information about how ductless mini-splits can help you solve your home's heating and cooling needs, contact our experts at T.F. O'Brien Cooling & Heating today!
Our goal is to help educate our customers about energy and home comfort issues (specific to HVAC systems).   For more information about other HVAC topics,  download our free Home Comfort Resource guide.
Air conditioner image via Shutterstock.