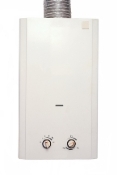 If you're in the market for a new water heating system, you should give tankless water heaters consideration. A tankless heater, also called an instantaneous water heater, does not contain a storage tank, and can comfortably provide hot water while using less energy than conventional tank systems. But it is vital that such a system is properly sized for your home.
The main factors that determine size are temperature rise and flow rate. To calculate these factors, have an expert determine the flow rate by evaluating how and when you use hot water. This evaluation will include elements such showers, sinks, dishwashers and washing machines. In addition, the desired temperature of the water must be calculated to ensure that your water is the right temperature when it exits the water elements. With this information, a tankless water heater can be appropriately sized so that a home has the precise amount of hot water at all times.
One reason people choose tankless water heaters is because they are energy efficient. Specifically, they do not produce energy losses caused by storing hot water in a tank. When hot water is needed, water travels through a heating element to instantaneously produce hot water.
In order for tankless water heaters to work effectively and properly, it is imperative that the sizing and flow rate calculations are made by a qualified HVAC contractor. In addition, proper installation and regular maintenance by an expert technician are essential for efficiency over the life of the system.
If you are interested in learning more about replacing your current system with tankless water heaters, contact T.F. O'Brien Cooling & Heating. Our experts are happy to answer any questions you may have. T.F. O'Brien Cooling & Heating has over 75 years of experience, and we pride ourselves in offering the best customer service, products and craftsmanship in the Long Island area. We specialize in all types of HVAC installations and repairs, as well as in other components such as water heaters.
Our goal is to help educate our customers about energy and home comfort issues (specific to HVAC systems).   For more information about other HVAC topics,  download our free Home Comfort Resource guide.
Tankless water heater image via Shutterstock.