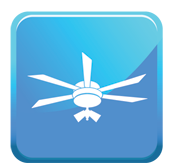 Ceiling fans produce a wind chill effect that wicks moisture and body heat away from your skin. They don't actually lower the temperature of a room, but you still feel several degrees cooler. Thanks to this wind chill factor, a ceiling fan can make it possible to raise your thermostat by as much as to 4 degrees, generating energy savings without sacrificing comfort. If you use ceiling fans when the weather is milder, during autumn and spring, you may be able to turn off the air conditioner completely.
As with any appliance, don't choose a fan based on appearances alone. Here are a few tips to help you choose the right fan for the right room:
Rooms with ceilings that are 8 feet or higher are best suited for a fan. A fan installed much lower is less efficient and can pose a danger.
Fan blades are most effective when installed 10 to 12 inches below ceilings, and about 7 to 9 feet over floors. While they should be long enough to circulate air through the whole room, they shouldn't get closer to the walls than 18 inches.
Large blades move more air around than small blades, so larger-bladed fans can be efficient even when running at lower speeds.
The typical master bedroom is around 250 square feet, which can be effectively served by a 36- to 44-inch-diameter fan. Rooms that are more than 18 feet long may require more than one fan to keep air moving.
When no one is in the room, keep  ceiling fans turned off to save energy. Remember that ceiling fans don't lower the temperature. The only reason you feel cooler is because of the wind chill effect.
Also, check the noise ratings of the models you're considering. Some fans operate noisily and disturb residents. It may be possible for you to listen to it operating before making your decision.
If you could use some professional advice on selecting or installing ceiling fans, contact the Long Island experts at T.F. O'Brien. We'd be glad to help.
Our goal is to help educate our customers about energy and home comfort issues (specific to HVAC systems).   For more information about energy savings and other HVAC topics, click here to download our free Home Comfort Resource guide.
T.F. O'Brien services the Long Island, New York area.  To get started, get a quote from us or check out our special offers.