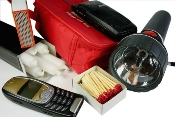 Preparation is the key to staying safe and secure during a power outage. Your electrical service can be knocked out by severe storms, accidents that damage electrical lines, power line breaks, transformer malfunctions or unusually high demand. Whatever the season, avoid the risks of power outages by being ready for them when they occur.
You should include the following items in an emergency preparedness kit:
Keep flashlights and battery-operated radios on hand, and check them regularly to make sure they're in good working condition. Keep a good supply of batteries in stock for these important items.
In addition to a regular AM/FM radio, get a National Oceanic & Atmospheric Administration (NOAA) weather radio that broadcasts only relevant weather information. These radios can also warn you when severe weather is approaching.
Keep a well-stocked first-aid kit where you can find it quickly and easily, even while under stress from weather conditions or injuries.
Assemble an emergency kit containing common tools, extra blankets, a fire extinguisher, copies of important documents and survival gear.
Keep a supply of fresh water and non-perishable food on hand for emergencies. Store at least one gallon of water per day per person, and shoot for at least a three days' supply. Use canned food, "Meal, Ready-to-Eat" (MREs), or food supplies designed for use by campers.
Keep extra sets of dry clothing available in case you need a change. Have weather-appropriate clothing available, including cold-weather and wet-weather gear.
Ensure a good supply of fuel for gas-powered generators if you have them. And learn how to safely operate this equipment.
Locate and know how to turn off water valves, circuit breakers, gas lines and other utilities.
Stock a seven-day supply of medications for emergencies.
In winter, seal and insulate your home against the cold. Caulk windows and doors to eliminate drafts. Install storm doors and windows. Insulate pipes to prevent freezing.
Since 1934, T. F. O'Brien Cooling & Heating has provided top-quality HVAC sales, equipment, and service to customers all around Long Island. Contact us today for more information on how to prepare for a power outage, and for all your home heating and cooling needs.
Our goal is to help educate our customers about energy and home comfort issues (specific to HVAC systems).   For more information about other HVAC topics,  download our free Home Comfort Resource guide.
Emergency kit image via Shutterstock.