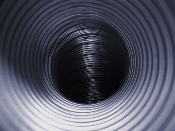 The ductwork of your HVAC system is the pathway through which heated or cooled air travels to reach all points around your home. Ducts that leak reduce the overall efficiency of your HVAC systems and significantly impact home comfort. But sealing leaky ducts can create optimal performance conditions.
In fact, up to 20 percent of the air in your ductwork can be lost because of leaks, gaps, holes, and loose or poorly sealed connections. Sections of ductwork in unconditioned areas of your home such as crawl spaces or unfinished rooms can lose as much as 60 percent of the conditioned air flowing within them.
By sealing leaky ducts in your home, you will prevent this loss and increase overall HVAC system efficiency.
Be aware of the signs of leaky ductwork, such as:
Higher-than-usual utility bills
Areas that are difficult to heat or cool
Stuffy and uncomfortable rooms
Obvious damage to ducts, loose or detached sections or kinked ductwork
Act quickly to repair the ductwork before the problem is reflected in your utility bills.
To fix ducts that leak:
Check ductwork you can see in attics, basements, and garages
Look for holes, cracks, or gaps in the ductwork or between sections
Ensure that ductwork segments fit together tightly, especially at elbows and branches
Make sure ducts are firmly connected to vents and registers
Seal connections between segments with mastic, a sealant specially made for ducts, or metal tape
Hire a professional to seal your ductwork if you are not comfortable doing it yourself, or to access hard-to-reach spaces
Since 1934, T. F. O'Brien Cooling & Heating has provided top-quality HVAC sales, equipment, and service to customers all around Long Island. Contact us today for more information on sealing leaky ducts and how it will reduce your seasonal energy costs, or to schedule a professional duct-sealing appointment.
Our goal is to help educate our customers about energy and home comfort issues (specific to HVAC systems).   For more information about other HVAC topics,  download our free Home Comfort Resource guide.
Ductwork image via Shutterstock.