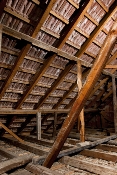 Not too many people wander up into their unfinished attic after the cold weather hits—but winter is the perfect time to check and see if your attic ventilation is sufficient. Why? Because sub-freezing temperatures can make it easier to spot two of the biggest problems associated with poor ventilation: condensation and water damage from ice dams.
Condensation occurs in attics when the warm, humid air from inside the house leaks into the unfinished space above. Without proper ventilation, this moisture cannot escape and will eventually condense on the cold surfaces found in the attic. When the temperature is below freezing, this condensation becomes easy to spot because it appears as frost on the rafters and wall joists, but remember: Damp insulation is also a clue. Over time, condensation can cause serious damage to wood surfaces and can result in mold-growth throughout the attic.
Ice dams are another issue that plague homeowners during the winter. These dams occur when the air inside the attic rises above 32 degrees, due to a lack of insulation or insufficient attic ventilation. Under these conditions, the warmer air inside the attic will heat the roof, cause any snow to melt and run off towards the edge of the roofline where it can refreeze. If more water collects behind this ice dam, it can leak into the attic or living spaces below, causing extensive damage throughout the home.
To prevent these and other moisture problems in your attic, be sure to do the following:
Seal any openings that might introduce warm air into the attic, including around light fixtures and pull-down stairs.
Make sure the insulation in your attic is sufficient—but avoid blocking the airflow along the eaves.
Install additional roof vents if needed to keep air flowing freely.
Ensure that household fans are venting outside, not into the attic.
T. F. O'Brien Cooling & Heating has been serving Long Island customers since 1934. We know the problems our customers face during the long winter months, and we have the tools and expertise to fix them. Don't let water or condensation damage your home—contact us today!
Our goal is to help educate our customers about energy and home comfort issues (specific to HVAC systems).   For more information about other HVAC topics,  download our free Home Comfort Resource guide.
Attic image via Shutterstock.