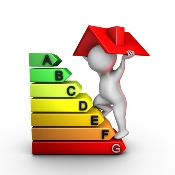 If you're concerned about high utility bills, a professional energy audit can help you identify specific heating and cooling efficiency issues within your home. Energy evaluations involve a thorough examination of every room in your home, an assessment of previous utility bills, and a measure of your HVAC equipment's efficiency, along with several other factors. Here are a few major elements a professional energy auditor should consider during the audit. The audit should include:
A review of previous utility bills to identify energy usage history.
An inspection of all major appliances to ensure they're using an appropriate amount of energy.
An evaluation of HVAC systems to ensure that they run efficiently.
A blower door test to measure your home's overall tightness.
The use of infrared scanning to identify specific sources of air leakage.
Documentation and results for any tests conducted.
Inspection of insulation
A blower door test can provide precise and especially useful information. A high-powered fan is first mounted to an outer door frame. The fan will then lower the pressure inside of your home, forcing outside air to come in. Gauges attached to the blower door will monitor pressure changes to identify sources of air leakage.
Your energy auditor should use a calibrated device for the test, which measures the amount of air it pulls out of your home, in addition to pressure changes. While uncalibrated blower doors can identify air leaks in your home, they can't measure the overall air tightness of your home.
To get the most out of your energy audit, you should walk through your home with the energy auditor to answer relevant questions, such as your preferred thermostat setting, to get a better idea for your home's energy usage and ways to reduce it. You should also ask the auditor questions, so that you know exactly what's involved in the evaluation.
If you would like more information on energy evaluations, or want to know how to increase the energy efficiency in your home, contact T.F. O'Brien Cooling & Heating for expert HVAC advice and service. Serving the Long Island, Queens and Brooklyn since 1934.
Our goal is to help educate our customers about energy and home comfort issues (specific to HVAC systems).   For more information about other HVAC topics,  download our free Home Comfort Resource guide.
Energy evaluation image via Shutterstock.