To ensure an energy-efficient home throughout the holidays, it's vital to be mindful of energy consumption and other wasteful practices. Consider these tips to prevent energy waste through year's end.
Manage Lost Heat
While it's true that fireplaces are an excellent way to heat your energy-efficient home, excess heat has the potential to escape easily. In order to counteract this issue, always keep your fireplace damper in a closed position when you aren't burning anything to prevent warm air from escaping. When you are using your fireplace, keep doors closest to the room shut in order to keep warmer air within.
Another way to ensure heat stays in your home is to have an energy audit performed. This test, completed by an HVAC professional, will determine the weakest areas of your home's thermal envelope and point out where repairs and air leaks need to be taken care of.
Compost Your Waste
Composting not only reduces the amount of waste coming out of your energy-efficient home, but it also reduces pollution while providing growth for plants and trees.
Manage Lighting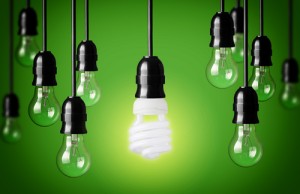 Because it gets darker much earlier during the fall and winter months, most households tend to leave their lights on for longer periods of time. For your energy-efficient home, keep indoor lights at a minimum when you're not home.
Candles are a great option that not only illuminate the area, but contribute to the fall atmosphere.
If you're hesitant to use candles, energy-efficient lighting works just as well. This type of lighting not only uses less energy but also has a much longer bulb life when compared with the traditional light bulb.
Consider using solar lighting systems. They require almost no maintenance and harness the power of the sun to keep the area lit.
For more information about maintaining an energy-efficient home during the fall months, or for any other home comfort needs, call T.F. O'Brien Cooling & Heating. We service the Long Island area and welcome any questions that you may have.
Our goal is to help educate our customers about energy and home comfort issues (specific to HVAC systems).  For more information about other HVAC topics, download our free Home Comfort Resource guide.
Image via Shutterstock.com