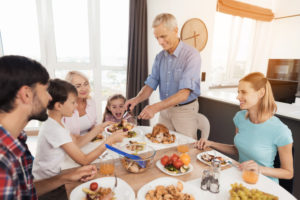 There's no place like home for the holidays, and often that means that loved ones from afar come home for Thanksgiving, Christmas, and Hanukkah. Having family visit during this time of year can certainly be heartwarming, but it can also get a little bit stressful, especially if you're worried about their accommodations in your home. Fortunately, you can rest assured that the guest areas in your home will provide comfort and joy with the addition of a ductless system.
Many times, our home's guest rooms are spaces like additions, converted attics or garages, or finished basements. Making sure they're perfectly climate-controlled for your guests is as easy as choosing ductless heating and cooling. What's more, installing a ductless system is a gift that keeps on giving – it will make those spaces far more usable year-round, so your home's usual residents can get more out of your living space even after the holidays are over.
Here are just a few benefits to installing ductless in your home.
As we mentioned above, ductless is a great heating and cooling solution for your added or converted spaces. Oftentimes, these areas don't have access to the home's central HVAC system, leaving them chilly in the winter, and hot and sticky in the summer. That can limit the use of these spaces by you and your family and can make any guests staying over for the holidays uncomfortable. But, when you install a ductless system in that area, your comfort control issues are a thing of the past!
Ductless heating and cooling systems are relatively easy to install. Your HVAC professional can install your unit for you without a lot of muss and fuss. That's because there's no need for additional ductwork. Your ductless system will operate independently of your home's central HVAC system. You won't have to worry about your home being a construction zone for days – most ductless installs are done in just a few hours – and you'll be able to enjoy comfort quickly.
Ductless systems blend seamlessly with your room. Because they're usually installed high on a wall or in the ceiling, a ductless unit doesn't take up valuable real estate in your home like a floor heater or window or room air conditioner might. And, ductless systems are known for their quiet operation, so they won't disturb sleep, listening to music, or watching TV.
Ductless heating and cooling units are easy to operate. Most systems can be turned on or off, up or down, with the touch of a button. Because they are easily operated via remote control, they're able to provide targeted comfort. That way, you can rest assured that your holiday guests are as cool, or as warm, as they'd like to be.
A ductless system can help you save on energy, too. It seems like adding an additional heating and cooling source to your home might use more energy, but actually, the opposite is true. That's because your home's central HVAC system works to keep your entire home climate-controlled, regardless of whether it's actually bringing cooled or heated air into all spaces. With the addition of a ductless system, your central heating and cooling don't have to work as hard – and that can help save energy and make your utility bills more manageable.
T.F. O'Brien can help you get the ductless system you need, for the holidays and beyond!
If you'd like to learn more about how T.F. O'Brien can help you keep all your home's spaces comfortable with ductless heating and cooling, simply give us a call at 516.488.1800. We'll be more than happy to schedule a consultation with you!