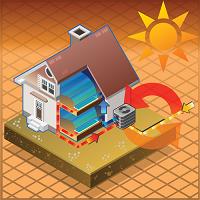 If you're like many homeowners, you have no idea what your air conditioning contractor is talking about most of the time. Though it's tempting to simply "smile and nod" as he or she rattles off A/C jargon, it's important that you understand explanations and recommendations.  
To assist you as you learn to navigate through the language of air conditioning, here are a few basic HVAC definitions you should know:
ACCA — Is your contractor affiliated with the Air Conditioning Contractors of America (ACCA)? If so, this is a mark of professionalism and industry-standards compliance.
Airflow — Airflow is a measure of how much air can move through your ducts. On average, your air conditioner should move about 400 cubic feet per minute (cfm) per ton of A/C capacity.
Air handler — If you have a split system, your air handler is what contains your A/C blower.
Charge — The charge of your refrigerant should be checked regularly by a technician, as too much or too little can reduce the efficiency of your air conditioning system.
Compressor — The function of the A/C compressor is to raise the pressure and temperature of your refrigerant. It is also often the main source of your system's noise.
Sensible heat — The amount of heat that an air conditioner will need to remove from the home in order to comfortably condition the space.
Latent heat — This term describes how much moisture will need to be removed from a space to ensure comfort.
Load calculation — Important during the installation of an air conditioning system, a load calculation is performed by your technician to determine how much heat is gained or lost through your home from leaks, appliances, occupants, etc.
MERV — Minimum efficiency reporting value is used to rate air-conditioner filter efficiency.
NATE — North American Technician Excellence  certifies technicians based on skill and knowledge.
SEER – The seasonal energy efficiency ratio  is used to rate air conditioner efficiency.
For more helpful definitions, contact the professionals at T.F. O'Brien Cooling & Heating. We've been serving Long Island since 1934.
Our goal is to help educate our customers about energy and home comfort issues (specific to HVAC systems).   For more information about other HVAC topics,  download our free Home Comfort Resource guide.