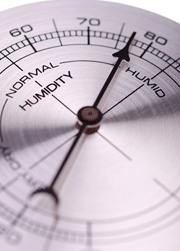 When springtime hits Long Island, it signals the arrival of warmer weather and blooming flowers, but it also means higher humidity is on its way. Dehumidifiers are one of the best ways to deal with out-of-control humidity.
During warmer spring and summer weather, humidity can make a home unpleasant, creating sticky air that makes everything feel damp. More importantly, excessive humidity can wreak havoc on your home, staining ceilings and walls, rotting wood and leading to other structural damage. Worse, too much humidity can cause mold, mildew, bacteria and dust-mite growth that can lead to or magnify symptoms for those who suffer from asthma and allergies.
Even if you can tolerate the unpleasantness caused by heat and humidity, you'll need to remove excessive moisture from the air in your home to avoid structural problems and health problems. To remove the humidity, you need the comprehensive control that a whole-house dehumidifier offers.
Working in tandem with your heating and cooling equipment, a whole-house system draws moisture from the air, once it is cooled after passing through your air conditioner, often called an in-duct or flow-through system. The air that is then delivered into every room of your home is drier, with a humidity level within your comfort zone. Further, whole-house systems utilize humidity sensors, which read your indoor humidity levels, and then adjust the output of the system accordingly.
Portable dehumidifiers are another option, though they can be noisy, require a lot of maintenance, and you would need one in every room.
You'll want to maintain a healthy indoor humidity range between 30 and 50 percent, recommended by the Environmental Protection Agency to contain mold growth. Below the 30 percent range would make the air too dry, and lead to a new set of problems. Keeping your humidity within the EPA's recommended levels will help you avoid asthma and allergy problems, protect your home's structure and ensure a comfortable home environment, too.
For more expert advice on dehumidifiers or any other home comfort matters, contact T.F. O'Brien Cooling & Heating. We've been serving Long Island since 1934.
Our goal is to help educate our customers about energy and home comfort issues (specific to HVAC systems).   For more information about other HVAC topics,  download our free Home Comfort Resource guide.
Humidity meter image via Shutterstock