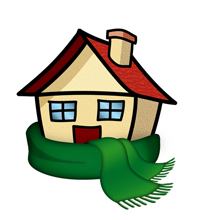 By using both heat pumps and furnaces to their best advantage, dual-fuel systems provide an energy efficient solution for heating your home. Installing one of these systems can significantly lower your energy costs while at the same time helping you stay warm and comfortable year round. Let's take a closer look at how these heating systems work.
Dual-fuel systems are made up of two main components: a heat pump and a furnace. Heat pumps are one of the most efficient heating options when temperatures are above freezing. To take advantage of this, when temperatures are relatively mild a dual-fuel system will use the heat pump to warm your home. However, as soon as temperatures begin to drop below freezing, heat pumps start to lose efficiency.
At this point, dual-fuel systems automatically switch over to the second heat source which in most cases is a gas furnace. The reason for the switch is that furnaces are far more efficient than heat pumps at lower temperatures.
By alternating between the heat pump and furnace depending on   the temperature outside, dual-fuel systems can greatly reduce your power usage while keeping your home warm and comfortable throughout the entire heating season.
As an added bonus, in most cases a heat pump can be reversed to act as an air conditioner. That means that during the summer months you can reverse the direction on your heat pump and enjoy central air conditioning. As you can see, a single dual-fuel system can keep your house comfortable no matter what is happening with the weather outside.
If you live in the Long Island area and would like to learn more about how one of these systems can save you money and improve the comfort of your home, contact us at T.F. O'Brien Cooling & Heating. We have been proudly serving the area since 1934 and look forward to helping you with your home heating and cooling needs.
Our goal is to help educate our customers about energy and home comfort issues (specific to HVAC systems).   For more information about dual fuel heat systems and other HVAC topics, download our free Home Comfort Resource guide.
Photo courtesy of
shutterstock.com
.