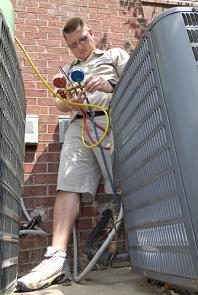 Recent news stories about refrigerant huffing are raising the awareness of homeowners about its dangers to people and their air conditioners. Teens, mostly, access the refrigerant in air conditioners by taking the cap off the outdoor refrigerant's valve that HVAC contractors use to fill your system. They either inhale it on the spot or capture it in a plastic bag to use later.
Refrigerant, including R-22 — or its trade name Freon — which most air conditioners use, is especially toxic. Side effects include heart, lung and brain damage. Huffing can even be fatal, especially if you discover someone inhaling the refrigerant. The combination of refrigerant and adrenaline can lead to sudden death. Prevention is the best way to cope with refrigerant huffing.
If your air conditioner isn't running quite right or your electric bills seem high for no reason, the best course of action is to have an HVAC contractor check your system. The refrigerant could have leaked from the coils or connections or someone could have tapped into your outdoor condenser.
The solution is to have the contractor put a safety cap that locks on the condenser's valve to prevent someone from using your refrigerant to get high. Not only does it increase safety, but it also increases your air conditioner's efficiency.
The amount of refrigerant in your system has to match the manufacturer's specification for maximum efficiency. When it loses refrigerant, it causes your system's efficiency to decrease and wears out its parts prematurely. When the level gets too low, your A/C won't run at all.
If your system uses R-22, it's a good idea to have a contractor put the locking cap on as soon as possible. In addition, because the EPA is phasing out R-22 over time, its price continues to rise. Further, R-22 is responsible for global warming and the depletion of the ozone layer. Since R-22 is the most damaging for the health of the abuser, you'll also rest easier, knowing you're A/C isn't harming someone for life or worse.
If you'd like more information on refrigerant huffing, contact T.F. O'Brien Cooling & Heating. We've provided HVAC services for Long Island since 1934.
Our goal is to help educate our customers about energy and home comfort issues (specific to HVAC systems).   For more information about other HVAC topics,  download our free Home Comfort Resource guide.