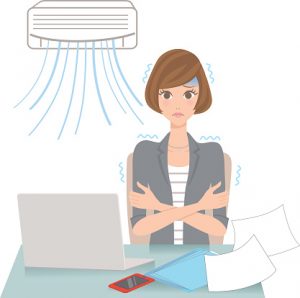 Once upon a time, workplaces all across the United States were too hot. One day, a gentle inventor named Willis Carrier came along. He created a new machine that could keep spaces nice and cool. That helped workers feel more comfortable and work more productively. But, Mr. Wooly Suit, the head of the office, felt too warm in his heavy clothes and decided to turn the air conditioning way down. Suddenly, most people in the office weren't comfortable at all. They were too cold! What would it take for everyone at the office to work their best and feel just right? 
It isn't a fairytale – it's a likely story in most workplaces. Temperatures are either too hot or too cold – and rarely just right. Of course, you can't please all the people all the time. But how can you ensure your commercial HVAC system does its job and provides the optimal comfort levels for productivity? In an article on the ThoughtCo. website, it is suggested that many factors besides simple cooling or heating should be taken into account when adjusting office temperatures.
First of all, the article suggests that many of the ideas about office temperature are outdated. Original studies on commercial HVAC were completed at a time when more men than women worked at offices. Many of the men regularly wore heavy suits to work, made from fabrics like wool that weren't very breathable. As a result, ideal temperatures hovered between 68ºF and 72ºF. Those temperatures might have been perfect for commercial spaces in the 1950s and 1960s. But as more women entered the workforce, and clothing for the office changed, those office temperatures probably should have increased.
A 2015 study changed the way people think about temperatures in commercial spaces.
According to the article, a 2015 study concluded that there are numerous factors companies should take into consideration when it comes to commercial HVAC in their building. The study found that women tend be more susceptible to the cold than men are. And, the colder people feel, the more likely it is they'll concentrate on ways they can warm up – rather than their work. Also, office settings are much different than they once were. Modern offices are more open, with larger windows and higher ceilings. All of this leads to air temperatures that are a lot different now than they were back in the day of the cubicle.
So what's the right temperature for my office?
Studies suggest that temperatures that hover between 73ºF and 77ºF may be just right for most office workers, both during the summer and winter months. Having a commercial HVAC system that has been sized appropriately for your building and that uses a programmable thermostat is the best way you can ensure office temperatures are optimal for productivity year-round. That's why you need the commercial HVAC team at T.F. O'Brien.
We are proud to offer a wide range of solutions for your commercial HVAC needs. Heating and cooling your space, as well as the proper sizing and controls, are all within your reach when you choose us to help. We want you, your employees and your clients to live happily ever after. Just call us at 516-488-1800, and we'll help you ensure that your office space is not too hot, not too cold… but just right.