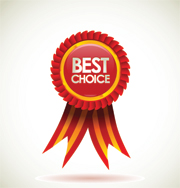 Preventive HVAC maintenance is crucial to keeping your heating and cooling equipment functioning efficiently, but it only works if your technician is a reliable expert who is committed to outstanding service. Starting with installation, poor workmanship and substandard parts can create new problems or fail to resolve old ones. Expert attention, on the other hand, can extend the life span of your equipment.
When choosing among HVAC companies, investigate any awards, certifications or affiliations they have earned. These qualifications can tell you a lot about a contractor's reputation, the quality of their work and their reliability.
T.F. O'Brien is proud to stand out with the following qualifications:
Carrier® President's Award 2011. Carrier presents  this  prestigious award to a select group of HVAC companies that go the extra mile to provide state-of-the-art technology and  quality workmanship. Recipients have  demonstrated mastery of high-level installation and maintenance techniques and a service ethic that places customers' needs first.
NATE certification. The North American Technician Excellence organization tests and certifies the most skilled HVAC craftsmen in the industry. The tests, which cover many areas and are developed by industry seniors, are so rigorous that about 70 percent of technicians don't pass the first time. Working with HVAC companies that employ NATE-certified technicians assures you of service that meets high national standards.
EPA certification. The Environmental Protection Agency certifies HVAC companies to ensure the safe operation of HVAC equipment, including potentially hazardous refrigerants. EPA certification means your contractor works in sustainable ways, installs environmentally safe equipment, and is in accordance with the Clean Air Act and Montreal Protocol, which ensure the phaseout of environmentally harmful chemicals, such as Freon.
ACCA members. The Air Conditioning Contractors of America is a nonprofit organization connecting consumers with trustworthy and skilled contractors. Members are committed to enhancing energy efficiency and creating comfortable, healthy homes. ACCA also provides ongoing education to keep members up to date on new technology.
These are just a few of the many  awards and certifications we've earned. To learn more, call T.F. O'Brien Cooling & Heating. We're proud to offer the best HVAC service in Long Island.
Our goal is to help educate our customers about energy and home comfort issues (specific to HVAC systems).   For more information about other HVAC topics, download our free Home Comfort Resource guide.
T.F. O'Brien services the Long Island, New York area.  Visit our website to see our special offers to get started today!