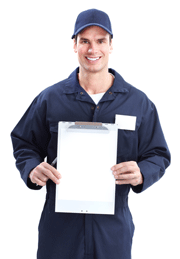 A ductless mini split should receive annual maintenance, just like any other type of HVAC system, to operate at its best. In fact, your warranty may require service at specified intervals to keep it valid. Besides prolonging the life of your system, regular maintenance keeps it running at top efficiency.
Expect these services when an HVAC contractor tunes up your equipment:
Air handler
The technician will clean the filter for the air handler as part of preventive maintenance, but it's also something that you should do on a routine basis to get the most efficiency from your system.  If your ductless mini split has an indoor air quality filter, the technician will clean it.
The drain pan sits below the evaporator coil and the technician will inspect it. Dirt can build inside of it, impeding the drainage of condensation. And if water sits in the pan too long, it can promote the growth of mold.
The evaporator coil will also be cleaned to keep it dust free. Dust that builds on the evaporator coil slows the cooling process and results in higher electric bills. It can also cause the coil to freeze over, which stresses the condenser.
The technician will also check the conduit line to assure that the flow of refrigerant is fast and the condensation can drain quickly.
Outdoor condenser
The technician will clean the fins and coils inside the condenser and remove any vegetative debris that could block airflow into the unit. In cooling mode, the condenser has to dispel the heat the refrigerant collects from your home. Dust, grass clippings and other plant materials can slow the process, driving up your electric bills.
Another important step in routine maintenance is inspecting the insulation that covers the refrigerant lines. Constant outdoor exposure can cause the insulation to degrade. When the insulation starts to wear away, it picks up heat from the outdoors, which decreases the system's efficiency.
Maintenance also should involve cleaning the electrical components of the system to keep its efficiency at factory standards.
If you'd like to learn more about the importance of routine maintenance for ductless mini-splits, contact  T.F. O'Brien Cooling & Heating. We've provided HVAC services in the Long Island area since 1934.
Our goal is to help educate our customers about energy and home comfort issues (specific to HVAC systems).   For more information about other HVAC topics,  download our free Home Comfort Resource guide.
Image via  Shutterstock.com