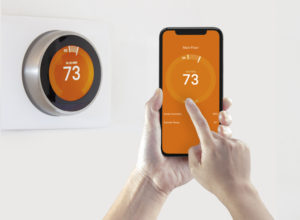 With people working and learning from home more and more, having the best possible home comfort is important. Along with being home more often comes increased energy use in your home – you and your family are spending more time on electronics and devices, are likely using kitchen appliances more frequently, and certainly relying on your heating and cooling system more than ever.
Fortunately, installing a smart thermostat is one way to help your home's HVAC system operate more effectively and efficiently, and keep you and your family more comfortable. Not sure what the benefits of a smart thermostat are, or if it's a good choice for you and your family? Below are just a few of the benefits of installing one in your home.
5 Ways a Smart Thermostat Can Help You Enjoy Better Comfort
Smart thermostats can help your home become more energy-efficient. That's because this technology is easily adjustable, from virtually anywhere. Some types can even "learn" your family's habits and adjust temperatures accordingly!
Worry-Free. No more worries about heating and cooling systems when you're away from home. With a smart thermostat, you can easily check into your system from your smartphone or laptop. Some systems even send you an alert if something happens out of the ordinary with your HVAC system.
Better Home Comfort, On Demand. Warm up (or cool down your home) before you arrive home. You can turn your thermostat down during the day or whenever you're away, and then turn up the heating or cooling from your phone or computer, so you'll arrive to a comfortable home.
Compatibility with Smart Home Systems: Some can hook into other smart devices. There are thermostat systems that are compatible with smart lighting and air quality equipment like humidifiers and air purifiers. There are smart thermostats that can be voice-activated, too.
Tracking Energy Usage: Many smart thermostat brands keep a record of your energy usage on their online platform – making it simple for you to assess the times of day when you use the most energy, or if there is an unusual amount of energy being used (which could indicate a system issue).
T.F. O'Brien can help you decide if a smart thermostat is right for your home.
Keeping your home comfortable – at a cost that's comfortable, too – is easy when you install a smart thermostat from T.F. O'Brien.
Simply call us at 516.488.1800, and we'll be happy to help you find the right smart thermostat for your home.