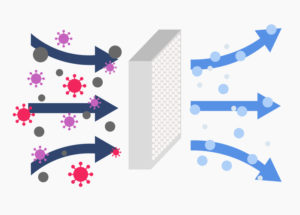 As we enter the holiday season, our thoughts start to turn to gift-giving. While everyone likes fun, whimsical gifts, sometimes the best ones you can give are practical ones. With people spending more time indoors, and the holiday season being much different this year than it has been in some time, you may be thinking of how you can truly show someone you care about them. A gift that can help those you love to enjoy a better home environment is one way you can accomplish this.
Indoor air quality, or IAQ, is more important than ever. People want to know the air their family is breathing is healthy, clean, and free of contaminants. Fortunately, there are many products available today that can help people get better air quality in their homes, from very basic products like HVAC filters to highly advanced air cleaners and purification systems. At T.F. O'Brien, we're pleased to provide the products and services that can help people enjoy better air quality, no matter what the season.
Learn about air purification that can kill up to 99 percent of viruses, bacteria, and mold.
Today's air purification offerings include systems that are effective against all three categories of indoor air pollution – particulates, microbial agents, and gases. These systems are installed directly into a home's existing ductwork, providing whole-house air cleaning. Because of this, they help reduce common allergy triggers, such as pollen, mold spores, dander, and dust. And, they're thoroughly tested on airborne and surface bacteria and viruses, so you can count on every cubic inch of the air in your home reached by your central system being purified.
You can also learn more about our advanced air purification system here.
And, there are other air quality products that can help available.
Air Sterilization: Mold can cause major issues when it comes to indoor air quality. Ductwork offers a great place for mold to grow quickly. You might be noticing some mold problems in your home because of health issues your family is experiencing, or unpleasant odors in your indoor air. We can perform a UVC air sterilization, which uses ultraviolet germicidal lights to kill mold and bacteria.
High-Efficiency Filters: When you have a loved one who suffers from allergies, asthma, or hay fever, getting a high-efficiency filter for your system can help greatly. At T.F. O'Brien, we can provide you with the same type of filtration used in operating rooms.
Giving the gift of better indoor air quality is easy – just call T.F. O'Brien.
We're ready to help you provide your loved ones with better indoor air this holiday season!
Just give us a call at 516.488.1800, and we will be more than happy to help you!