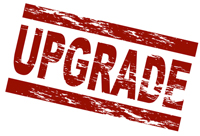 Did your furnace perform well under par this winter? Did you notice a difference in comfort from last season? It might be time for a furnace upgrade.  
Replacing any home equipment is never an easy decision, but if your unit is older, and its performance has truly started to dip, it's wise to consider a furnace upgrade. While deciding that a replacement is necessary is a significant, challenging part of the process, making sure you select the best possible replacement unit for your home is important as well.
Efficiency ratings
Fortunately, Annual Fuel Utilization Efficiency (AFUE) ratings exist specifically to help homeowners evaluate the potential performance of and savings from a system. A rating used to measure how well a furnace uses energy to heat your home over one season, AFUE runs on a percentage scale. Heating systems that are rated higher, such as a 90 percent AFUE-rated system, do a better job of converting energy into actual warmth, and as a result, do a better job of cutting down your heating bills.
Long-term savings
That being said, higher-efficiency furnaces are generally more costly to purchase. That's why the vast majority of furnace upgrades should be viewed as an investment — by spending more money in the short-term for increased efficiency and quality, you can ensure more lucrative savings down the road, both in terms of heating bills and potential repair costs.
Professional help
In addition to efficiency ratings and long-term savings, you should take other factors into account when choosing a new furnace. Ideally, you should engage the help of a local contractor that you can trust. A heating contractor will use a heating load calculation to ensure that the unit is the correct size for your home, and that the system is properly installed. These are crucial factors to a successful upgrade.
Don't ignore the signs that a furnace replacement is necessary. A furnace upgrade can increase energy savings and comfort, as well as long-term costs. For all your heating and cooling needs, contact your local HVAC experts at T.F. O'Brien Cooling & Heating. Serving Long Island, we're always happy to help.
Our goal is to help educate our customers about energy and home comfort issues (specific to HVAC systems).   For more information about other HVAC topics,  download our free Home Comfort Resource guide.
Upgrade image via Shutterstock