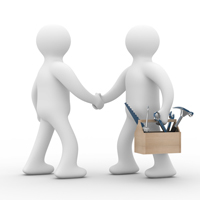 Regular preventive maintenance is the best way to keep your furnace, air conditioner, heat pump or other HVAC system in prime operating condition and ready to keep your home comfortable throughout the year.
Annual preventive maintenance keeps system components clean and in good repair, and reveals problems that can be fixed before they can cause malfunctions or breakdowns. Consider the benefits of an HVAC maintenance plan that extend beyond what standard preventive service offers.
Planned maintenance, or service contracts, are a convenient way to make sure your HVAC system receives regular preventive maintenance on time and on your schedule. Maintenance plans typically:
Lock in pricing
Guarantee a specified level of service
Prevent delays caused by the rush that typically occurs at the beginning of the season.
Planned maintenance agreements typically cover standard preventive maintenance and inspection services, plus seasonal system inspections and checkups, replacement parts used during repair and emergency service. They can also give the customer a higher priority in the dealer's service queue.
Maintenance agreements add costs beyond your normal utility bills, but the expense is offset by the many tangible system-wide benefits of an HVAC maintenance plan. Maintenance plans are, very simply, a wise investment.
A maintenance agreement from your trusted professionals at T. F. O'Brien Cooling & Heating offers you in-depth system inspection and expert tune-up. We service most makes and models of HVAC equipment.
Give us a call today. We can provide your heating and cooling systems the maintenance they need to keep working through the current season and well beyond.
Since 1934, T. F. O'Brien Cooling & Heating has provided top-quality HVAC sales, equipment and service to customers all around Long Island. Contact us today for more information on the benefits of an HVAC maintenance plan and for specifics on the preventive maintenance and service plans we offer.
Our goal is to help educate our customers about energy and home comfort issues (specific to HVAC systems).   For more information about other HVAC topics,  download our free Home Comfort Resource guide.
Maintenance agreement image via Shutterstock