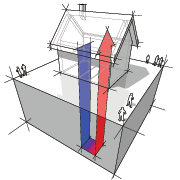 The Environmental Protection Agency (EPA) and Department of Energy (DOE) agree that geothermal cooling and heating is the most cost effective, environmentally friendly way to keep your home comfortable.
Obviously your first priority is to keep you and your family comfortable, but geothermal systems offer five notable benefits beyond its flawless ability to maintain a comfortable temperature in your home.
Tax credits: If you think purchasing and installing geothermal cooling and heating is too expensive, think again. Existing federal tax credits, which are valid through the end of 2016, cover 30 percent of the investment, including installation costs. This has the potential to substantially decrease the geothermal investment.
State incentives: New York offers a number of rebate programs and loan options to make a geothermal upgrade possible. These change frequently, so once you make up your mind about geothermal, contact the Long Island Power Authority to learn about current rebates and the New York State Energy Research and Development Authority (NYSERDA) for state loan information.
Rising energy prices: Propane, oil and natural gas prices fluctuate continuously, often in an upward direction. The price of geothermal cooling and heating never goes up. The system doesn't burn a fuel and only consumes a small amount of electricity needed to exploit the free energy lying dormant in your backyard. Geothermal lets you harvest the power you already have.
Environmental impact: Geothermal emits no carbon dioxide, carbon monoxide or other harmful greenhouse gases. Installing one geothermal system is equivalent to planting one acre of trees or taking two cars off the road. Imagine the impact if everyone in your neighborhood opted for geothermal cooling and heating!
Flexibility: With the flip of a switch, a geothermal heat pump can change from heater to air conditioner — an incredibly beneficial feature when the seasons are in transition. Geothermal also supplements your hot water heating if you set it up that way.
Why isn't geothermal cooling and heating a standard in America? It's time to make the switch. Contact T.F. O'Brien Cooling & Heating in Long Island today to learn more about how to get started.
Image via Shutterstock.com