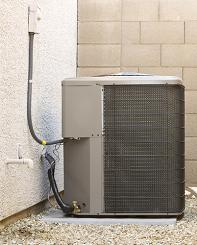 Heat pump maintenance is vital for keeping cooling (and heating) expenses as low as possible, and for providing home comfort all year long.  
It's good to know the primary factors for optimizing heat pump efficiency to better understand the role that heat pump maintenance plays. Airflow and refrigerant charge are top priority for your HVAC pro. Refrigerant charge needs to be correct for optimal heat exchange, and also for compressor function. Unhindered airflow across the evaporator and condenser is required to instigate heat exchange from the refrigerant. A  clean air filter and leak-free duct system promote comfortable cooling and heating, maximum energy efficiency, and healthy indoor-air quality.
Heat-pump systems that fall into disrepair can lose as much as 25 percent in overall efficiency. In addition, problems may arise such as a clogged condensate line that could result in musty odors and water leakage inside your home. This provides an environment for black mold and bacterial growth, which is a problem that should be avoided.
Planned heat pump maintenance  
Planned heat pump maintenance is an investment with substantial returns, including energy savings, preventing expensive refrigerant recharging and repairs. And maintenance helps your heat pump last years longer. This is a list of necessary maintenance checks and balances:
Clean evaporator and condenser coils.
Inspect expansion valve.
Inspect start and run capacitors.
Clean drainage system of debris.
Check refrigerant charge, and adjust as necessary.
Inspect refrigerant lines for leaks and insulation.
Tighten electrical components, and check for wear.
Measure amperage draw.
Clean and lubricate blower assembly.
Calibrate blower speed.
Check thermostat function.
Inspect the duct system.
Change or clean the air filter.
Do-it-yourself maintenance  
Between service calls, there are several maintenance steps homeowners can take, such as checking your air filter regularly, especially during peak seasons. Also, keep the outdoor cabinet free of airflow obstructions. This may include vegetation, snow and ice accumulation during the heating months, leaves, and strewn debris.
If you would like to keep your system in peak condition, contact T.F. O'Brien Cooling & Heating to schedule a heat pump maintenance appointment. We've served homeowners in the Long Island area since 1934.
Our goal is to help educate our customers about energy and home comfort issues (specific to HVAC systems).   For more information about other HVAC topics,  download our free Home Comfort Resource guide.