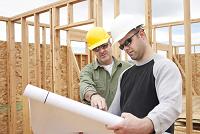 Heating and cooling is an essential part of planning a second-story addition, since the space has to be conditioned if you're going to use it as livable space. Incorporating the heating and cooling system early on in the design process makes it easier for the architect to incorporate the mechanical components.
Consider these options for conditioning your new space:
Extending the current system. If your HVAC contractor has determined that your existing equipment is large enough to handle the additional space, this could be a cost-effective option for you. However, it's important for you to work with the HVAC professional to determine its adequacy. Trying to heat and cool with equipment that's undersized may make your whole home uncomfortably cold or hot. In addition, the contractor will have to extend ductwork to heat or cool the second floor.
Upgrading the current system. If your HVAC equipment is 10 years or older, it may make sense to replace it with a more efficient system. It will add to the cost of the remodel, but over time, the investment will pay for itself by lowering your energy bills. The estimate for the new system should also include the costs to extend ductwork.
Installing a separate system. You can heat and cool the new space by installing a separate system. Options include installing a separate furnace/air conditioning unit that will condition the second floor only; however, you'll need to factor ductwork costs, too. Ductless mini-splits are heat pumps  that don't use ducts to deliver the air, The system consists of one outdoor condenser and up to four indoor air handlers installed in individual rooms or spaces. A conduit connects the two and provides the refrigerant, drainpipe and power. Its benefits include easy installation, the ability to both heat and cool the space, and a cost-effective alternative to retrofitting ductwork.
Choosing an HVAC system for heating and cooling an addition is an important aspect of designing the addition. If you'd like more expert help, contact T.F. O'Brien Cooling & Heating. We've provided HVAC services for Long Island since 1934.
Our goal is to help educate our customers about energy and home comfort issues (specific to HVAC systems).   For more information about other HVAC topics,  download our free Home Comfort Resource guide.
Image via  Shutterstock.com