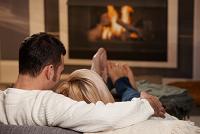 Today's premium furnaces offer a wealth of useful innovations. Among models in a similar price bracket and with a similar Annual Fuel Utilization Efficiency (AFUE), it's the features and extras that create a stand-out product. Knowing which high-performance enhancements to look for can mean the difference between an acceptable purchase and a great one.
Features you might be interested in when you're shopping for a furnace include:
Dual heat exchangers — Higher-efficiency furnaces use a second heat exchanger to extract and utilize waste heat.
Variable-speed blower — By operating continuously at lower speeds, systems with a variable-speed feature achieve more comfortable, even temperatures throughout the home, delivering warm air more slowly when less heat is necessary.
Two-stage gas valve — Many high-efficiency furnaces utilize a two-stage gas valve, which uses more fuel when the heating demand is high, and consumes less fuel when the demand for heat decreases.
Ignition systems — Older furnaces relied on a continuously burning pilot light for ignition, which wastes fuel. More efficient furnaces use direct spark ignition, hot surface ignition and intermittent pilot ignition systems, all of which consume fuel only on demand.
Quietness — Higher-end furnaces have well-insulated cabinets, better-quality motors and other elements that reduce noise.
Improved air filtration — Better indoor air quality often results from high-efficiency furnaces that utilize variable-speed air handlers. With the air circulating through the furnace frequently throughout the day, the air supply moves through the filter more often. As a result, more pollutants are trapped in the filter, and removed from the home's air supply.
When shopping for a furnace, look for products offering long-term, high-quality warranties; manufacturers tend to offer more generous warranties on premium furnaces than on budget models. At the least, ensure that the warranty covers the heat exchanger, the most costly component to replace.
If you want to learn more about shopping for a furnace in Long Island and other HVAC and home comfort topics, contact us at T.F. O'Brien Cooling & Heating.
Our goal is to help educate our customers about energy and home comfort issues (specific to HVAC systems).   For more information about other HVAC topics,  download our free Home Comfort Resource guide.
Image via  Shutterstock.com