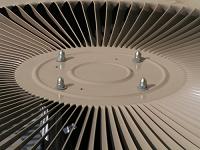 Do you have heat pump problems? To save time and money, it may be worth attempting a few fundamental heat pump troubleshooting tips to get your system up and running before you call your HVAC technician.  
Heat pumps are complicated machines with many integrated components that must work together seamlessly for optimal function. With that in mind, if at first you don't succeed, call an expert for help.
If your heat pump doesn't power on, make sure the thermostat is in the correct mode. In winter, it should be set to "heat." Set the thermostat 5 degrees above room temperature to trigger the system to cycle on. Also, check to see if a circuit breaker has tripped. Check the main panel, subpanel and switches for both the heat pump and the supplemental heating electric coils to ensure the system is powered on.
If your heat pump has power and airflow, but the air is not sufficiently warmed, check the outdoor condenser for ice accumulation. If there is ice accumulation on the coil, the heat pump isn't cycling in defrost mode properly. Your HVAC pro will check refrigerant charge, a chief culprit for condenser freeze-up.
If your heat pump has power, but there is limited or uneven airflow, you may have a blockage somewhere in the system. Make sure all registers in the home are open. Check the air filter, and change it if it's dirty. Next, check the outdoor unit for snow, ice or debris accumulation on or around the cabinet. Are the indoor and outdoor air handlers functioning? If not, you may have a broken belt.
If your heat pump powers on and off too frequently, it may be overheating from a clogged air filter. If changing the filter doesn't help, there may be an issue with the limit switch, which is designed to shut down the heat pump if the plenum becomes too hot. The limit switch pointers should be set to 90 degrees (lower pointer) and 115 degrees (upper pointers). Your heating technician can inspect the settings.
If these heat pump troubleshooting tips don't get your system running, contact T.F. O'Brien Cooling & Heating for help. We've proudly served Long Island homeowners since 1934.
Our goal is to help educate our customers about energy and home comfort issues (specific to HVAC systems).   For more information about other HVAC topics,  download our free Home Comfort Resource guide.
Image via  Shutterstock.com