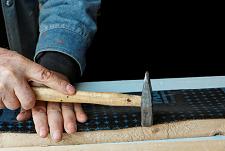 If your attic hatch is leaking, it may be a big source of energy loss in your home. Further, it will negate other insulation improvements you make to the attic. Fortunately, it's fairly easy to stop leaks through the attic hatch.
The value of insulation
Most attic hatches are constructed of plywood, a type of building material without any insulating capabilities. During the summer months, an improperly insulated attic hatch provides a constant flow of heat from the attic down into the living area, boosting energy bills. In the winter months, warm air inside the living spaces will continually escape toward the cooler attic space. Air movement can also lead to moisture problems.
Installing insulation on the hatch
Follow these steps if your attic hatch is leaking.
Gather the materials that you'll need including caulk, weatherstripping and rigid foam board insulation.
Clean the surface area on the attic side of the hatch door to prepare it for weatherstripping.
Measure the area of the hatch door, and then cut a piece of rigid foam insulation. Apply the foam board to the door, securing it with duct tape or glue.
Apply weatherstripping around the edge of the hatch, so that when it closes the weatherstripping compresses to create a tight seal.
If your attic hatch is leaking, remedying the problem is neither too time-consuming nor expensive. For more expert advice, contact the professionals at T.F O'Brien Cooling & Heating today! We proudly serve residents of Long Island.
Our goal is to help educate our customers about energy and home comfort issues (specific to HVAC systems).   For more information about other HVAC topics,  download our free Home Comfort Resource guide.
Image via  Shutterstock.com