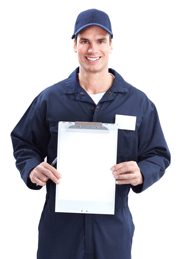 Hiring an HVAC system contractor for your Long Island area home is a big decision. It's important that you do your homework to ensure you get the right contractor.
Keep these tips in mind as you consider contractors:
Learn license and insurance requirements that contractors must meet in New York. Ensure that potential contractors meet these requirements. Learn how long they have been in business.
As for referrals from friends, family members, neighbors and coworkers. Local trade organizations can also provide names of members in your area.
Ask contractors for references from their customers and call them. Ask the customers how well the contractor performed during equipment installation or service, and if the work was timely and on budget.
Look for the Energy Star brand. These products meet U.S. Environmental Protection Agency energy-efficiency guidelines and will provide long-term savings on energy. A contractor should provide information on savings you can realize on Energy Star-qualified cooling and heating equipment.
Check for special offers, including rebates on Energy Star-brand equipment.
Write down your system's model number and maintenance history before calling a contractor. Note any uncomfortable rooms.
You should receive a comprehensive home evaluation from a contractor who will thoroughly inspect your current system and your home to assess your needs. A cooling and heating system should meet your needs when your home's size, insulation levels and windows are considered. A quality contractor also will inspect your duct system, if applicable.
Get itemized estimates, and get them in writing. Compare contractor bids by examining cost, efficiency and warranties. Keep in mind that a low bid doesn't always mean it's the best deal.
Get a signed proposal in writing before work begins, specifying project costs, model numbers, job schedule and warranty information.
At T.F. O'Brien Cooling & Heating, we service and install nearly every type and brand of available HVAC equipment. We also offer a comprehensive annual maintenance plan for peak performance. It can even pay for itself through energy savings and avoidance of expensive repairs.
For more on hiring an HVAC-system contractor or other home comfort topics, feel free to contact us at T.F. O'Brien Cooling & Heating. We've served the Long Island area for more than 75 years and have received numerous awards for our services.
Our goal is to help educate our customers about energy and home comfort issues (specific to HVAC systems).   For more information about other HVAC topics,  download our free Home Comfort Resource guide.