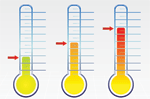 Extending ductwork isn't always a pleasant option for add-on spaces like a retrofitted attic or basement or for areas in your home that are difficult to heat and cool. For a practical and aesthetically pleasing solution, explore the versatile design and installation that ductless mini splits offer.
Ductless mini splits are specifically engineered to provide flexible location options, unobtrusive installation and easy maintenance. They are compact split-system heat pumps that match, or sometimes exceed, the efficiencies of the highest-rated furnaces and air conditioners. All of the parts are smartly packaged in three components: A compact outdoor unit, indoor air handler(s) and a thin conduit.
The outdoor unit houses the compressor and condenser. Its compact design may go largely unnoticed, as it is less than half the size of a typical forced-air air conditioning system or heat pump. A heating and cooling pro may neatly install it  close to the exterior wall, perhaps obscured by hedges and landscaping, as long as there is at least one foot of clearance to allow unhindered airflow.
The air handler, up to four per outside unit, mounts easily on a wall, or may be hung in a drop ceiling. The temperature is conveniently adjusted with a remote control. If you have more than one air handler, they comprise a mini zoning system, as each air handler is adjusted separately. This provides personalized comfort for your loved ones, and saves energy by heating or cooling only the area that needs it, rather than your entire house.
A conduit attaches the outdoor unit to each air handler. It houses all of the refrigerant tubing, condensate drain, power source, and delivers high-speed air in a sealed system, which eliminates air loss common in many ducted systems. Bulky ductwork requires a foot of clearance too, in most situations. The conduit only needs about a 3-inch hole in the outside wall of your home to connect everything together.
Ductless mini splits provide versatile options and solutions when extending traditional ductwork of forced-air systems doesn't work. Contact  T.F. O'Brien Cooling & Heating for more information. We've been serving the Long Island area since 1934.
Our goal is to help educate our customers about energy and home comfort issues (specific to HVAC systems).   For more information about other HVAC topics,  download our free Home Comfort Resource guide.