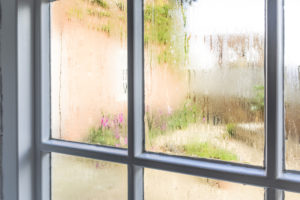 Today's homes are built for better energy efficiency, which in and of itself is a great thing. Using less energy not only helps your wallet, but it helps the earth, too. Unfortunately, though, this means your home is more tightly sealed than an older home might be – and this can lead to some indoor air quality concerns, including too much indoor humidity.
And while this is most likely a problem you'll deal with in the summertime, an overly humid house can be much more than just uncomfortable. Homes that are too humid can experience issues like mold and mildew growth, breakdown of building materials like plasterboard, stucco, and wood, and poor indoor air quality. Luckily, there are some telltale signs that can help you know if your indoor humidity level is an issue.
5 Signs of Too Much Humidity
You notice condensation on surfaces. Your windows, pipes, and mirrors might have beads of moisture on them. If that's the case, it's likely that your home is too humid. Make sure you check the spaces around areas of condensation to ensure there is no moisture damage.
Your air conditioning system isn't keeping you cool. Your air conditioning system is designed to remove much of the excess humidity from your home's air. However, in situations where there is too much moisture in the air, your AC system will have to work much harder to keep your home cool, and may simply not work as effectively.
Your skin feels clammy or sticky. Nobody likes this yucky feeling, but if you're noticing that your skin often feels this way inside your home, you likely have too much moisture in your indoor air.
Walls, floors, and other surfaces may feel damp. If you notice that your walls, floors, shelving units, or furniture surfaces feel moist, it's probably due to excessive humidity. You won't want to wait to remedy the problem, because if left unchecked, it can cause permanent damage.
There is a musty smell or mold and mildew is visible in your home. If you can smell mold or mildew, it's likely that it's already lurking somewhere in your home. And, if you can see it, you know it's already there and you can be fairly certain that you have a moisture concern in your home.
What can I do if there is too much humidity in my home?
As we said above, if your home is too damp, it can cause all sorts of problems, from building issues to health concerns. Fortunately, there is something you can do about it – you can give T.F. O'Brien a call. We can help you get to the root of your humidity issues, and provide you with the products you need for better indoor air. Whether you need a whole-house dehumidifier, air conditioning repairs, or ventilation solutions, we're ready to help you feel more comfortable. Simply give us a call at 516.488.1800. We'll be happy to make an appointment with you and help you solve your humidity issues!