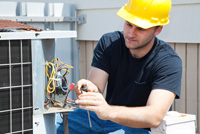 Pretty soon, it will be time to turn on your air conditioner and sit back with a cool drink to enjoy–or maybe just wait out–the summer heat. But what happens if your air conditioner isn't working after its winter break?
What if it breaks down during the height of the summer heat? To avoid both problems, you should consider scheduling a maintenance visit to make sure your A/C unit is in proper working order.
During a maintenance visit, a professional repair technician will inspect your air conditioning unit for various problems that may have come up during the previous summer's use. A common issue is having low refrigerant levels, which can lead to your air conditioner freezing over if the weather gets particularly hot. Often, low refrigerant levels are simply the result of the A/C unit's natural use of refrigerant, but in some cases, the system may be leaking. Your repair technician can detect leaks and repair or replace the faulty parts.
Ducts can also spring leaks over time. Checking for and sealing duct leakage is part of a normal maintenance routine. In addition, the repair technician will inspect all of the A/C system's electrical connections, making sure that they connect properly and cleaning out any dirt that has accumulated throughout the year. This inspection protects you from the possibility of electrical shorts or even fire hazards. Other typical maintenance tasks include inspecting the belts, oiling the motors and checking the thermostat for accuracy.
Many common problems with air conditioners can be avoided with proper maintenance. When you routinely have your A/C unit inspected and take care of minor repairs, you reduce the chance that your unit will unexpectedly need costly repairs or die an untimely death. Many homeowners find that the convenience of a seasonal service plan helps them  remember to have maintenance performed when it is needed.
If you're looking forward to the cool blast of an air conditioner on a warm summer day, now is the time to make sure everything is in good working order. For expert advice on all your HVAC needs in Long Island, contact T.F. O'Brien Cooling & Heating.
Our goal is to help educate our customers about energy and home comfort issues (specific to HVAC systems).   For more information about other HVAC topics,  download our free Home Comfort Resource guide.
Air conditioner maintenance image via Shutterstock