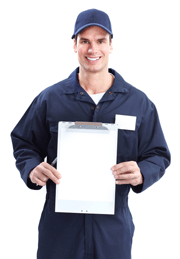 Do you want to keep your HVAC system at peak working condition? Would you like to pay less on your utility bills, while enjoying peace of mind that your equipment is functioning safely? The best way to accomplish these goals is to schedule annual HVAC service.
And signing up for an annual maintenance plan is the easiest way to make sure you don't forget to schedule a visit from a qualified technician.
Here's a look at the tasks technicians typically perform during annual HVAC service:
Clean the condenser and evaporator coils
Lubricate all moving parts
Check the start and run capacitors
Inspect the evaporator drain
Monitor refrigerant levels
Clean or replace air filters
Tighten electrical connections
Check and adjust the burners
Check the thermostat settings and controls
All of these  annual HVAC services provide you with benefits that make the technician's visit to your home well worth it. Some of these benefits include:
Improved efficiency — Clean, tight and well-lubricated parts help your system run smoothly, allowing it to consume less electricity. You save money every month on utility bills, allowing annual HVAC  service to pay for itself.
Extended equipment life — When a technician inspects your equipment, he or she is able to catch problems early and prevent a system breakdown, helping your equipment last longer.
Better home comfort — Neglected equipment may have trouble keeping up with demand, especially during cold East Coast winters or humid Long Island summers. A trained technician knows how to help you get the most out of your HVAC equipment to improve home comfort.
But with a service agreement, where you enlist the help of your local HVAC contractor and agree to annual seasonal tune-ups, you can take advantage of all of the above benefits, plus others, including:
Discounts on repairs
Priority service if you have an emergency or need repairs
A lower cost than if you purchased all these services separately
Professionals who call you when it's time to set up maintenance, so you don't have to worry about remembering to schedule timely service
Overall, you will enjoy an efficient, dependable HVAC system after yearly maintenance is performed. To arrange an annual maintenance contract with a trustworthy contractor, please contact T.F. O'Brien Cooling & Heating for your Long Island home today.
Our goal is to help educate our customers about energy and home comfort issues (specific to HVAC systems).   For more information about other HVAC topics,  download our free Home Comfort Resource guide.
Technician image via Shutterstock