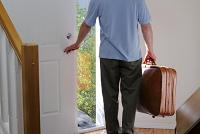 If you're eagerly anticipating a much-needed family vacation, make sure everything's in order before you head out. By completing the following measures before you pull out of the driveway, you can enjoy peace of mind on your trip, knowing you're keeping your home safe and sound during your absence.
Unplug appliances: From the TV and computer to small kitchen appliances, unplug everything that doesn't need power while you're gone. Double check that the stove and oven are both off and that personal appliances such as hair dryers and curling irons are unplugged.
Turn off the water: To prevent an inopportune flood, turn off the water to the sinks, toilets, washing machine and dishwasher. You can turn off the water behind each appliance or shut off the main water valve.
Turn down the hot water heater: Save energy and keep your home safe and sound by turning the temperature down, but not all the way off. Many tank water heaters have a vacation setting designed exactly for times like these.
Adjust the thermostat: If you have a programmable thermostat, use the permanent hold setting while you're gone. This overrides all pre-programmed settings and saves energy in your absence. Be sure to program a comfortable temperature for an hour or so before you're due to get back from your trip. If you don't have a programmable thermostat, set the temperature to 85 degrees.
Hire a friend to watch over your home: Ask them to feed Fido while you're gone, water house plants, collect the newspaper and the mail, mow the lawn and generally keep an eye on things. This is one of the best ways to keep your home safe and sound while you're on vacation.
Use timers: Set up one living room light and one TV or radio to come on every evening with a timer. The light and sound deters would-be burglars.
For more tips on saving energy and keeping your home safe and sound when you're vacation bound, contact T.F. O'Brien Cooling & Heating. We've provided quality HVAC service to Long Island since 1934.
Image via Shutterstock.com