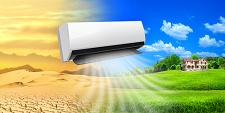 When you're buying a new air conditioner, it's likely that you'll run across terms and concepts you're unfamiliar with. This guide can clarify some of the mysteries of these major appliances, simplifying and demystifying the process for you.
Cooling systems are a major investment, and when you cover the basics, you'll get better performance and satisfaction from this appliance.
Sizing
Regardless of the type of air conditioner you choose, being certain that it's the right size will increase your comfort and reduce energy bills. Contractors should perform a load calculation using software called Manual J to size the system, which takes into account the home's energy efficiency, family size, preferred indoor temperatures and the layout of your home.
Type
If your home already has ductwork that's in good shape, a central system will provide the most comfort for the least amount of power consumption. If you don't have ductwork to any or all of your home, ductless systems are available that provide efficient cooling. They blow air directly from an air handler and have the same efficiency minimums that central systems do.
Efficiency
The minimum seasonal energy efficiency ratio (SEER) stands at 13 for ductless and central systems. When buying a new air conditioner, efficiency counts, since higher efficiency levels translate to lower electrical consumption. Upgrades that work well in our climate include dual-speed compressors and variable-speed motors in the blower. A dual-speed compressor only runs at top speed when it's exceptionally hot. Variable-speed motors run quietly and more slowly, removing more indoor humidity and helping you feel more comfortable.
Installation
A reputable contractor will size the system using Manual J and complete a thorough ductwork analysis and inspection before installing the equipment. Duct sealing and insulation are critical for your comfort, as is careful outdoor condenser placement, away from sunshine and with plenty of clearance. Installing the recommended amount of refrigerant after installation increases the system's efficiency, as well.
If you'd like to learn more about buying a new air conditioner, contact T.F. O'Brien Cooling & Heating. We've provided HVAC services for Long Island since 1934.
Image via Shutterstock.com