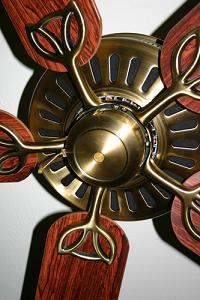 Using ceiling fans in your home offers you an aesthetic, practical and economical solution to reducing cooling costs.
In use for over a century, ceiling fans are a simple and inexpensive way to supplement cooling needs by decreasing demand on your A/C system. Using fans in your home can allow you to raise your thermostat 4 to 7 degrees and still remain comfortable, saving you up to 30 percent on your cooling costs.
Tips for buying and installing ceiling fans
Blade sizes – In rooms where items may be disturbed by the breeze, larger blades offer comparable cooling at a lower velocity than smaller blades. A higher number of blades affects cost but not performance.
Sizing and location – To aid your A/C in cooling your home, install ceiling fans in each room you need cooled 7 to 9 feet above floors, 10 to 12 inches below ceilings and at least 18 to 24 inches from walls. Utilize 52-inch fans for rooms up to 400 square feet, 44-inch fans up to 225 square feet, and 42-inch fans up to 144 square feet. For rooms more than 18 feet long, use multiple fans.
Controls – Typically light switches are replaced with controls for various fan speeds and light settings. Choosing a control with a capacitor design by the same manufacturer eliminates noise. Pull chain and remote control fans are other options. Consider ease of use when selecting a model to encourage frequent use and lower energy bills.
Quality – More expensive fans offer quiet and smooth operation with more speeds, less issues and longer warranties than cheaper units. Keep in mind that you get what you pay for and check noise ratings before buying. The more inclined you are to use your fans, the more impact it will have on your energy bill.
Installation – Be sure to use strong support as recommended by the manufacturer for safety.
To learn more about ceiling fans and other methods to boost your comfort while keeping cooling costs down, contact T.F. O'Brien Cooling & Heating. We've been offering the Long Island area excellent customer service and technical expertise for over 75 years.
Image via Shutterstock.com