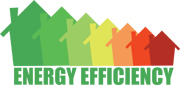 When you make investments in your home that lead to long-term home energy savings, you'll be rewarded with lower energy bills year-round. Unlike other kinds of investments, there's no risk when you spend some time and money to increase your home's energy efficiency.
The National Association of Realtors conducted a study that found that 88 percent of the home buyers surveyed stated that energy efficiency was important or very important.
Whether you're planning to sell or remain in your home for years, the payback is immediate. These projects can help you get started:
Improving insulation. You can add insulation to your attic and even your walls if it's lacking. The Department of Energy recommends a minimum of 16 inches in the attic for the best protection against temperature change. Blown-in or batt insulation are inexpensive and last for years. Increasing wall insulation by blowing in loose cellulose or using expanding foams helps reduce thermal losses, summer and winter. If you're not up to the task yourself, contractors can help you.
Addressing windows. Unless you already have thermal or Energy Star-rated windows, energy loss through inefficient window panes can be substantial. Upgraded windows are a sizable investment, but the energy savings can be significant. Alternatively, diligent use of and properly installed storm windows or plastic sealing kits are also effective practices.
Sealing air leaks. This project takes more time than money, but it can result in solid energy savings. Check the joints between your window frames and the exterior and apply exterior caulk to seal them. Check your basement sill plate for leaks and anywhere that pipes, wires and cables enter your home. Seal with expanding foam. Or schedule an energy audit to pinpoint air leaks throughout your home's exterior shell.
HVAC maintenance. Having your heating and cooling system cleaned annually is an investment that helps it run more efficiently and last longer. The technicians can also evaluate your ductwork and seal any leaks that may be present. Leaking ducts can significantly raise your energy bills and degrade indoor air quality.
If you would like to learn more about energy savings through HVAC maintenance, contact T.F. O'Brien Cooling & Heating. We've provided HVAC services for Long Island since 1934.  
Image via  Shutterstock.com