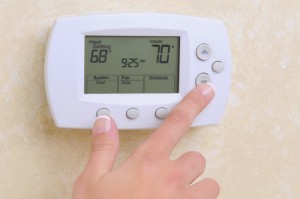 As temperatures fluctuate between seasons, weeks and even days, having a programmable thermostat can help keep you and your family comfortable.
Installing a programmable thermostat also provides energy-saving benefits, resulting in lower monthly utility bills. Follow some simple guidelines to maximize your programmable thermostat and save energy.
Keep your thermostat set at its energy-saving setting during long periods of time, such as during the day while family members are at work or school and overnight. To see the best results in savings, keep settings in place for 8 hours at a time when possible.
If you need a boost in warm or cool air, temporarily override the set program  temperature. That said, using this feature regularly can reduce your efficiency. Instead, alter your settings to a more comfortable programmed setting.
When you'll be away from home for days at a time, use the vacation setting so you aren't heating or cooling an empty house. Maximize your savings by reducing the amount of conditioned air your HVAC system produces since your home will be empty.
Set a program that works for your family. The 7-day models are ideal for families with a unique schedule each day of the week while 5+2-day models are great for families with a set Monday through Friday routine and a separate weekend schedule.
To optimize performance, remember to change the batteries in your thermostat each year. Most systems will alert you if you need to change the batteries more often.
By following these tips and being thoughtful about your energy usage, you will notice the savings in your utility bills.
Thinking of installing a programmable thermostat in your home to optimize your energy usage? Contact the experts at T.F. O'Brien Cooling & Heating. We've served the Long Island area since 1934.
Our goal is to help educate our customers about energy and home comfort issues (specific to HVAC systems). For more information about other HVAC topics,  download our free Home Comfort Resource guide.
Image via  Shutterstock.com