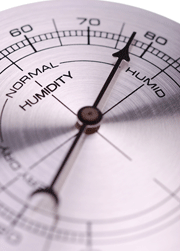 If you think you're completely safe from diseases in your own home, you've got to do some serious rethinking. Viruses like the flu thrive in cold temperatures for a reason — because cold weather comes with lower humidity.
To prevent viruses from taking up residence in your home, consider a whole-house humidifier to curb sickness and improve comfort.
Viruses love the cold
Low humidity and cold temperatures leave your body with less moisture, as it evaporates into the air, leaving your skin, nose and throat dry. As a result, nasal passages also dry out and crack, leaving you more susceptible to the flu and other airborne viruses that would normally be trapped by mucus in your nose. Also, the flu virus thrives in the air longer in these dry, cold conditions, which explains why more people are affected by viruses like the flu in the winter months.
Why a whole-house humidifier works
Turning up the heater to the warmest temperature isn't enough. A furnace makes the air less cold, but it can't make the air less dry. What you also need to fully protect yourself from the flu is a humidifier. Humidifiers release moisture into the dry, warm air, which protects your skin, nose and throat while also improving the conditions so the flu virus won't linger and is less likely to affect you. Together, a whole-house humidifier and a furnace can improve indoor air quality, making your home an unwelcome environment for the flu and other viruses.
A whole-house humidifier draws water from your home's current plumbing system. Once installed, it requires very little maintenance aside from occasional preventive maintenance like other whole-house systems.
For more information about whole-house humidifiers and to determine if your home could benefit from increased humidification, contact the pros at T.F. O'Brien Cooling & Heating. We've proudly served homeowners throughout Long Island since 1934.
Our goal is to help educate our customers about energy and home comfort issues (specific to HVAC systems). For more information about other HVAC topics,  download our free Home Comfort Resource guide.
Image via  Shutterstock.com