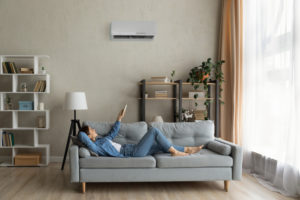 Many homeowners decide to embark on home improvement projects in the spring so that their homes will be ready for the summer season. Maybe you're simply doing a few small repairs around the house. Or perhaps you're taking on a larger project, such as renovating unused space or adding on to your home. No matter what improvements you're making, spring is a great time to look at your home comfort system, too.
Keeping your family comfortable is a top priority all year long, and one improvement you can easily make is by adding a ductless cooling and heating system to your home. Ductless systems are extremely flexible. You can add one unit to a space that doesn't have access to your home's duct system, or you can add multiple units throughout your home. If you're renovating an existing space in your home, like an attic, basement, or garage, ductless is the perfect choice to keep that area comfortable, no matter what the weather outside.
Five Ways a Ductless System Can Benefit Your Home
You might be wondering why ductless has become such a popular choice among homeowners in recent years. There are several reasons that go beyond simply offering better home comfort. Here are five of the top reasons you might choose to install a ductless system in your home:
Ductless systems offer both AC and heating. Most ductless systems on the market today can provide both cooling and heating to your home. These all-in-one systems use heat pump technology to keep your home cool in the summer and warm during the winter months.
You won't have to rely on clunky window AC or space heaters. Window air conditioners obstruct your view and are often inefficient. Space heaters take up floor space and depending on the type, can pose a fire hazard when not used properly. A ductless system is unobtrusive, usually installed high on a wall or ceiling.
Your renovated space will be usable year-round. Many times, spaces like basements, garages, or attics don't have access to your home's ductwork. When you install a ductless system in these areas, you can enjoy comfort all year through, no matter what the temperature outside. This can help you and your family make better use of your new living area.
Ductless is a perfect replacement for old, electric baseboard systems. If you need to replace an old baseboard system, you might want to consider ductless. These systems are highly energy-efficient, don't require the installation of ductwork, and unlike baseboard heat, offer the added benefit of air conditioning during the summer months.
Ductless systems allow you to be in greater control of your comfort. Most ductless units are easily operated via remote control and can help you get targeted comfort from room to room. You'll be able to adjust your ductless system to the precise temperature for maximum comfort.
T.F. O'Brien can help you get the ductless system you need.
At T.F. O'Brien, we take great pride in our expert installation of ductless cooling and heating systems. We can help you find the right ductless system for your home, and our experienced technicians can install it for you quickly and professionally. And, we can provide you with additional services, like ductless maintenance and repair.
If you're planning spring renovations for your home, and you think ductless might be a great choice for your home, T.F. O'Brien can help. We have ductless equipment on hand, and can likely install it in your home right away! Give us a call at 516.488.1800, and we'll be happy to schedule an appointment with you.