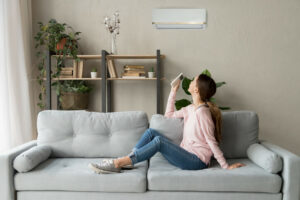 Now that the summer season is fast approaching, you might be thinking about ways to keep certain areas of your home cool and comfortable, especially spaces where you might be using window or portable air conditioning. Maybe you have a bonus room or a home theatre you'd like to get more use out of this summer, or maybe your summer home could benefit from a cooling system.
A great solution to your cooling conundrums can be ductless air conditioning. A ductless cooling system offers many benefits, especially when compared to window air conditioning units, and can be easily installed in your home. In this article, we'll talk about some of the benefits of choosing ductless, and we'll tell you how we can help you with your ductless needs. Keep reading to learn more!
5 Benefits of Ductless Air Conditioning
Ductless systems have become a popular way to cool spaces or entire homes, that do not have ductwork. Homes that have radiant heating systems often were not built with ductwork, nor with the wall space to add it. In the past, people who owned these types of homes were limited when it came to cooling options. Ductless systems offer a much better cooling option over window air conditioning, and here are a few reasons why:
Ductless AC is highly efficient. Because ductless systems often use heat pump technology, they provide one of the most efficient cooling options, with many ductless systems using up to 40 percent less energy than a typical window unit. And that means savings on your utility bills!
Ductless systems are non-intrusive. Anyone who has used window air conditioners knows that they tend to be noisy and obstruct the view. That can be a huge drawback in some situations, like if you have a summer home overlooking the ocean! Ductless systems are installed high on the wall or in the ceiling, keeping them out of your immediate living space.
Installation is permanent and usually can be completed quickly. Unlike a window unit that you must remove and store over the winter, a ductless system is a permanent installation in your home. Renovation is minimal; generally, only a small hole is required to connect the indoor and outdoor unit components.
Ductless air conditioning is quiet. As mentioned above, most people find that ductless systems are whisper-quiet, unlike most window units. This means you can use them in spaces like bedrooms, theatre rooms, and home offices – and you won't have to worry about noisy, disruptive system operation.
You can even get year-round comfort. That's right! Ductless systems often can provide heating in cooler weather, too, making them especially beneficial in areas where you might have had to rely on space heaters, which can take up floor space and can cause a fire hazard. And, because they use the same heat pump technology to keep your home warm, you can count on efficient heating as well.
How can T.F. O'Brien help me get the ductless cooling I need?
At T.F. O'Brien, we take great pride in our expert installation of ductless cooling and heating systems. We can help you find the right ductless system for your home, and our experienced technicians can install it for you quickly and professionally. And, we can provide you with additional services, like ductless maintenance and repair.
If you think ductless might be a great choice for your home, T.F. O'Brien can help. We have ductless equipment on hand and can likely install it in your home right away! Give us a call at 516.488.1800, and we'll be happy to schedule an appointment with you.