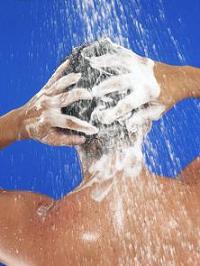 Tankless water heaters are a great option for many homes. Instead of heating water around the clock, like a conventional hot water heater, tankless heaters only heat water when there is a demand for it. This can result in significant energy savings, but not without taking two sizing factors into consideration.
If you're looking into tankless water heaters, you need to learn a whole new vocabulary. No longer can you think in terms of a 40-gallon or 60-gallon hot water heater to size your sytem. Now, you've got to think in terms of flow rate and incoming water temperature to make sure that your hot water needs are provided for.
Incoming water temperature — Since there is no tank to hold heated water, a tankless unit works by quickly raising the temperature of all incoming water. The amount of heating the unit is capable of depends in part on the temperature of the water coming from your local utility's water supply (along with the flow rate). In general, colder climates typically have colder incoming water temperatures.
Flow rate — The amount of water flowing through tankless water heaters also affects their performance. Basically, the faster the water flows, the less time the heater has to heat the water. This is dependent upon how the water is used at any point in time. Different fixtures and appliances will use different amounts of water, measured in gallons per minute (GPM):
Toilet: 0.5
Bathtub: 2.0 – 4.0
Shower: 1.5 – 3.0
Kitchen sink: 1.0 – 1.5
Laundry sink: 2.5 – 3.0
Dishwasher: 1.0 – 3.0
Clothes washer: 1.5 – 3.0
Knowing the flow rate of the applications for which you'll use a tankless water heater will help you to calculate the necessary system capacity. Doing so will help ensure that your tankless heater provides enough hot water at a high enough temperature to meet your family's needs.
For an expert consultation, and to calculate incoming temperature and flow rates, contact T.F. O'Brien Cooling & Heating. One of our trained experts can help you make the best decision for your family.  Serving the Long Island area, we're always happy to help.
Our goal is to help educate our customers about energy and home comfort issues (specific to HVAC systems).   For more information about other HVAC topics,  download our free Home Comfort Resource guide.
Hot water image via Shutterstock