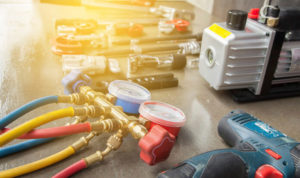 For most homeowners, saving money on household expenses whenever possible is always a priority. Often, people often decide to cut corners when it comes to routine maintenance for their home comfort system. While saving a few dollars might seem like a good idea at the time, it can often lead to expenses that far exceed the cost of maintenance.
There are many tangible reasons for getting maintenance each spring for your home's air conditioning system. While it's understandable that you want to save money where you can, in this article we'll illustrate exactly how you'll save money in the long run by choosing AC maintenance. Keep reading to learn more!
5 Ways Air Conditioning Maintenance Can Help You Save Money
Lower Energy Use. When you choose to have a qualified professional service your air conditioning system each spring, you'll help your system operate more efficiently. That can mean savings on your utility bills!
Reduced Need for Repair. A well-maintained system is far less likely to break down, which can mean expensive repairs or even replacement. And often, small problems are caught and can be remedied before they become larger and more costly ones.
Better System Longevity. When you take good care of something, it tends to last longer. This goes for your clothing, your car, and yes, your home comfort system. You'll save money by not having to replace your system unexpectedly or prematurely.
More Effective Cooling. When your system gets the maintenance it needs, it will operate more effectively. You won't have to keep turning the thermostat down to effectively cool your home – which means less energy is used.
Maintained System Warranty. Almost all quality home comfort products come with a manufacturer's warranty. Unfortunately, many people don't read the fine print, which often requires regular maintenance to keep the warranty in place. And without it, you could be facing some out-of-pocket expenses that would have been covered otherwise.
Can T.F. O'Brien help me get the air conditioning maintenance I need?
We definitely can! All you need to do is call us at 516-488-1800, and we'll be happy to schedule your spring air conditioning maintenance appointment. And remember, we can help with any other AC service you might need, including repair, replacement, or ductless air conditioning.