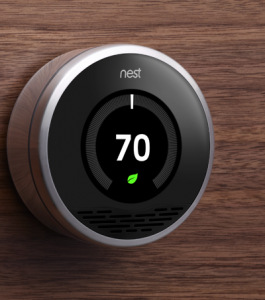 If you have a summer home, there's no doubt you appreciate having a place where you can get away from the hustle and bustle of everyday living. Your summer home is the place you and your family go to relax, enjoy the beach, and simply unwind. Like any other home, though, your summer home comes with a set of ownership concerns. How can you make sure all is safe and sound when you're not there? Well, you can keep your eye on your indoor comfort levels much more easily than you may have thought, with the use of a smart thermostat.
Unlike traditional thermostats, or even modern programmable thermostats, smart thermostats can learn your home comfort habits and provide remote management, so you are able to both monitor and control your summer home's comfort levels any time, from just about anywhere. You can log into the smart thermostat's interface using your phone, tablet, laptop or computer, and control the temperature of your summer home at the touch of your fingertips. And that makes it easy to keep an eye on your energy usage, while you're away and while you're there relaxing. Here are five ways a smart thermostat can benefit your summer home:
Energy savings: Half of the cost of your energy bill, on average, goes to the heating and cooling of your home. If you're heating and cooling a primary residence and a summer home, it can get costly. According to ENERGY STAR, you can save around $200 a year on energy costs just by controlling your thermostat properly. With a smart thermostat, that's easy to do.
Adaptability: Because some smart thermostats "learn" what your home comfort habits are over time, you won't be constantly running the AC or furnace while you're not there. Some of today's thermostats use sensors and your mobile phone's GPS to tell whether or not anyone is home, and control the climate accordingly. Plus, you can go online and make changes as necessary at any time.
Energy control: Most of the smart thermostats on the market today offer you energy usage reports, so you'll be able to keep a closer eye on the comfort control of your vacation home. Your mobile device will show you the actual amount of energy you're using toward indoor climate control, letting you take better control over your energy usage.
Plan for the weekend: You won't have to worry about walking into a sweltering summer home – or, conversely, constantly keeping your vacation house cool when no one is there. That's because, as we've discussed previously, adjusting the temperature in your summer home is as easy as going online, when you have a smart thermostat. You can adjust the temperature so that it's perfect, just in time for your arrival.
Good looks: It might seem superficial, but smart thermostats are made to blend in nicely with your décor and provide a modern, elegant look. Smart thermostats offer an easy-to-read digital display, backlighting and even graphic icons, so you can count on easy of use and an attractive design.
Keeping your summer home comfortable – at a cost that's comfortable, too – is easy when you install a smart thermostat from T.F. O'Brien. Simply call us at 516.488.1800, and we'll be happy to help you find the right smart thermostat for your summer home.