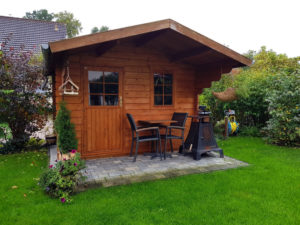 Nothing makes your home seem more exciting and new than a renovation, especially when that renovation provides you with your own, special space. More than ever, people are enjoying hanging out around the house, and creating perfect areas in their homes for just that purpose. Whether you've added a "she-shed" outside your home, converted a garage into the quintessential "man-cave," or added a home theater room in your finished basement, you'll want it to be the perfect place to unwind.
When you create a new space for relaxation and enjoyment, of course you'll want to make sure everything reflects your personal style. From the flooring, to the furniture, to the décor, your space is about you. Your she-shed might be chock-full of art supplies and crafting materials. Or, your man-cave might have comfortable recliners and games. Home theater? Maybe you've spent time visiting local antique shops for the perfect vintage movie posters. But… if your space isn't comfortable, it's hard to enjoy it.
Controlling the comfort in your renovated spaces is important.
If you've converted an area of your home, built an addition, or installed an outbuilding on your property, you may not be able to give that space access to your home's existing ductwork. You should know, though, that you don't have to rely on noisy window AC or clunky space heaters in order to keep your special space cool in the summer and warm in the winter. Ductless heating and cooling is a great option.
When you choose to have your home comfort company install a ductless unit in your man-cave, she-shed, home theater or any other renovated or added space, you'll be able to enjoy the area year-round, in complete comfort. What's more, ductless systems are extremely efficient, quiet, and mount on the wall or in the ceiling of your space – providing you non-obtrusive comfort. And, because ductless systems don't require complicated construction or additional ductwork, it can be installed quickly, with little mess.
T.F. O'Brien can help you get the ductless you need.
At T.F. O'Brien, we've been installing quality ductless systems for years – and we can help you get one, too. Our expert installers will have your ductless unit up and running promptly, so you can sit back and relax, or craft, or watch that box-office smash, in complete comfort. We know you worked hard to create your very own special space, and we want you to enjoy it – no matter what the weather outside might be.
Are you ready to get complete comfort control for your renovated or added space? Just give us a call at 516.488.1800, and we'll be happy to help you. Prefer to contact us online? Click here to complete our short form, and a representative will reach out to you.