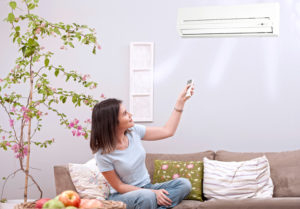 Chances are, you've heard of ductless cooling. After all, it's become a very popular choice for home cooling over the past few years. But you may have a few questions. You might wonder if it would work in your home, if it works with your existing systems, or maybe even how it works in the first place. At T.F. O'Brien, we've been offering ductless cooling for several years, and are experts in ductless application and installation. We can answer your questions, and can help you get the cooling you need to stay comfortable all summer long.
First, let's talk about what, exactly, ductless cooling is. The explanation is pretty much in the name itself. Ductless cooling is just that – a cooling system that doesn't require air ducts to operate. Unlike a central air conditioning system, ductless units operate independently of each other. So you can have a singular ductless unit installed in your home, or units installed throughout, creating cooling zones.
How are ductless systems installed?
Ductless systems are mounted on the ceiling or on a wall, and require nothing more than a small hole drilled in the ceiling or wall to connect the indoor unit to the outdoor unit. That's it – no need to install additional ductwork, which saves on construction mess and costs. Ductless systems provide a more effective, and much more efficient, alternative to window air conditioning, and are extremely quiet. And, you can count on quality – brands like Daikin, for instance, offer durability combined with attractive styling.
Here's a step-by-step description of how ductless cooling is installed in your home:
A hole is drilled in the ceiling or wall to connect indoor and outdoor units
The condensing unit is installed outside, with unit connection facing the house
Refrigerant lines, electrical wiring, and defrost wiring are run through the hole, connecting the indoor an and outdoor units
The indoor unit is installed either high on an interior wall or in the ceiling
All electrical connections are completed
The system is charged with refrigerant and tested to ensure it's operating according to manufacturer specifications
How do I know if ductless is right for my home?
If you need air conditioning for a single space, and currently rely on window AC to stay cool in that area, then ductless is a great option for you. This includes spaces that you've added or renovated that don't have access to your home's current duct system, like new additions, finished basements, or converted garages or attics.
If you currently have baseboard heat, or another type of electric heating system, in your home, it's also probably a good candidate for ductless cooling. It can be very costly to add a duct system to a home that doesn't already have one. Not to mention, there are ductless configurations available that can cool your space in the summer, and heat it in the winter. So if it's time to replace your baseboard or radiant heating system, ductless cooling and heating could be the perfect option for you.
Additionally, ductless cooling can help balance out spaces in your home, so your current system can operate more efficiently. Ductless can supplement your existing cooling system by providing support for problem areas, especially if you have a larger home. The best thing to do if you'd like to learn more about ductless and whether or not it's right for your home is to contact T.F. O'Brien.
At T.F. O'Brien, we're ready to help you with your home cooling needs.
You can count on the professionals at T.F. O'Brien to help you get the best system for your home. We have extensive experience with the installation, maintenance and repair of all types of air conditioning systems, including ductless cooling. Call us today at 516.488.1800, and we'll be happy to help you. Prefer to contact us online? Click here to complete our short form, and a representative will reach out to you.