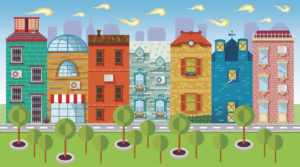 Installing home air conditioning is nothing new. In fact, the first private home to have air conditioning installed was built in 1914. At first, it was a luxury only easily afforded by the wealthy. It wasn't until 1945, when a less expensive, compact window air conditioner was developed, that more people had access to home cooling. But in the years that followed this invention, leaps and bounds in air conditioning technology were made, and soon, central air became more accessible to the general public.
Air conditioning installation in new home builds became much more common, and by the late 1960s, most of the new homes built had central air conditioning. According to the Department of Energy, today, nearly 100 million homes in America, or 87 percent of households, have air conditioning. With so many Americans relying on cooling – and the detrimental effects that refrigerants in the past could have on the environment – many manufacturers took the responsibility to create better, more efficient, and more environmentally friendly AC.
Changes in refrigerants and efficiency make modern systems better for consumers and for the planet.
For many years, the effect of early refrigerants on the environment was not known. But as time passed, it became more and more clear that refrigerants were causing depletion of the ozone layer and were contributing to the greenhouse effect. Manufacturers sought a safer type of refrigerant, and in 1996, air conditioning systems using the refrigerant R-410A, came out on the market. This refrigerant differed from its precursor, R-22, in that it doesn't contribute to ozone depletion, and functions at a much higher efficiency. That means air conditioning systems that use this type of refrigerant are more efficient, saving energy.
The Department of Energy explains that with new standards in place, modern air conditioning systems use about 50 percent less energy than they did in 1990. Because of this, homeowners can enjoy better comfort, all while saving energy – and, ultimately, money on their utility bills. And, many manufacturers and utility companies recognize the benefits of installing a new, more efficient system. As a result, they offer homeowners rebates and incentives for installing new, efficient, environmentally sound air conditioning.
Modern technology has helped make air conditioning more sustainable than ever.
In addition, new types of air conditioning systems were being developed with a focus on overall improved efficiency. One type of system, ductless air conditioning, was created for homes where ductwork wasn't available. Replacing less-efficient window air conditioning, ductless systems are highly efficient and easily controlled. For homeowners, that means greater efficiency. With ductless, it's much simpler to create a zoned system that keeps spaces cool in the summer and warm in the winter – all while increasing efficiency and comfort levels.
And, heat pumps are becoming more and more of an option for homeowners, as new technology has created heat pumps that operate in much colder temperatures than their predecessors. Because heat pumps cool (or heat) spaces by moving heated air rather than generating it, these systems are extremely efficient. The Department of Energy offers that heat pump systems can reduce energy use by 30-60 percent, in addition to controlling humidity and providing durability and reliability. And, today's cold climate heat pumps can operate even when outdoor temperatures dip to -15 degrees Fahrenheit.
Is it time to replace your old, inefficient air conditioning? T. F. O'Brien can help.
At T.F. O'Brien, we've made it our priority to stay on top of modern trends and better, more sustainable technology when it comes to comfort equipment. We provide our customers with the very best, most efficient systems available on the market today. We'll work with you to ensure that the system installed in your home not only keeps you comfortable, but helps you enjoy maximum energy efficiency as well. To schedule an appointment with us, simply call us at 516.488.1800, and one of our comfort specialists will be glad to talk with you about today's many efficient, effective home-cooling options.