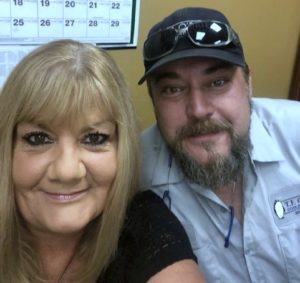 Laura Hanson, a customer service representative at T.F. O'Brien, recently had the opportunity to tag along with a technician to learn more about what, exactly, techs do out in the field. While she had some knowledge of HVAC equipment, she wanted to know more about what it was really like for the people out there performing the work for clients. So on May 15, 2019, she spent the day on a ride-along with technician Nick Betka.
Laura had an understanding of heating equipment, since she used to own a plumbing supply company and her husband is in the field as well. Air conditioning was a bit of a different story, however. "I had no knowledge of air conditioning other than it was in my window," Laura said, adding, "I had requested a day in the field to actually see different AC equipment and to view an actual tune-up." Laura and Nick headed out on the job, going to both residential and commercial sites. "A special thank you to Mrs. Dorothy Gregory, Ms. Dorothy Eneo, The Brake Service Group, and Serendipi Tea for making me feel so welcome in your homes and businesses," she said.
Laura explained that she and Nick arrived at their first call, a customer's home, at 8 a.m. The home contained two central air conditioning systems, and the first order of business was to check the air handlers and then the compressors. Laura said she was impressed by Nick's skills out in the field. "Nick is so knowledgeable – I now know what a contactor looks like," she shared. The next job was a tune-up for a single zone ductless system. She learned how to clear the condensate line, clean the system and replace the filter properly. She was impressed by the cooling power of ductless, and now plans to install a system in her own home in the fall.
Overall, Laura said her day went well and she felt it was very beneficial for her to have that opportunity. "My day flew by and I felt a little more confident with each job. I have to thank my service manager, Richie Hogan, for making the day happen. I know the office was very busy that day, but he felt it was important for me and others to have a day to learn."
Laura has been a part of the T.F. O'Brien team since 2016. She assists us with scheduling service calls, dispatching calls to technicians, assisting with accounts receivable, ongoing trainings, and public relations. She takes great pride in helping the day run smoothly both for the team and for our customers. Laura lives in Bellerose with her husband, Scott, and two of their three daughters, Brittany and Courtney. In her spare time, she enjoys spending time with her daughter Lauren's two sons, grandsons Owen and Quinn.